District News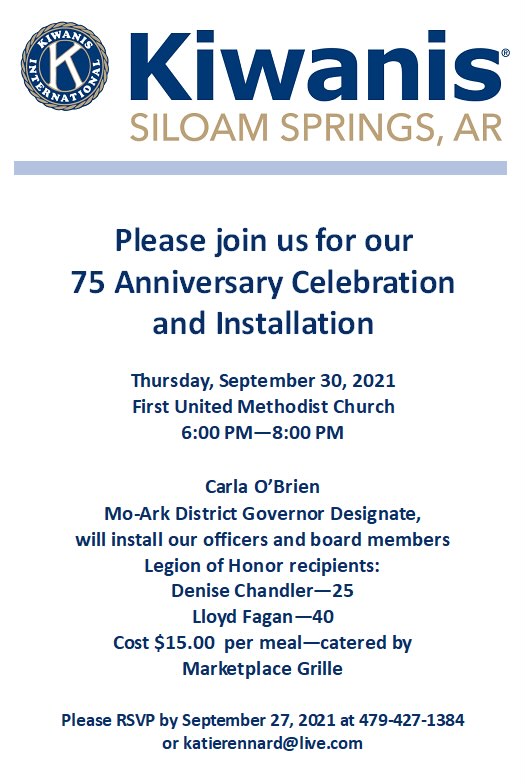 ---
Earl Collins Foundation Scholarship Applications for 2022
Scholarship applications are now available. See: https://k14.site.kiwanis.org/earl-collins-foundation-trustees-links/
---
Kiwanigram
The August Kiwanigram is now available. See: https://k14.site.kiwanis.org/wp-content/uploads/sites/315/2021/08/Kiwanigram-Aug-2021.pdf
Carla OBrien Elected Governor; Roy Ockert Elected Governor-Elect
It was my honor to be elected and installed Saturday as governor-elect of the Missouri-Arkansas District of Kiwanis International. In this photo taken by Kiwanigram editor Diane Baker of Batesville, the newly installed governor, Carla O'Brien of High Ridge, Mo., presents me with a governor-elect badge and pin. Actually, we won't take office until Oct. 1. The installation took place during the 71st annual Mo-Ark District Convention, held Friday and Saturday at the Red Wolf Convention Center in Jonesboro.
---
CLE Officers Training
For details of 2021 online training offered by KI on Aug 16 to 19, and then by video, see the CLE News page at https://k14.site.kiwanis.org/cle-news/
---
New Member Orientation
Mary Saale is presenting a program on this subject at the 2021 MO-ARK Convention. See the files here: https://k14.site.kiwanis.org/new-member-orientation/
---
Earl Collins Foundation has a new brochure. Check it out on their page or–
---
MO-ARK District Convention
August 5 – 8, 2021 – Jonesboro, AR
---
Missouri-Arkansas Kiwanis District Past Governors Council — MA-Fund
May 4, 2021
To: Mo-Ark Kiwanians
From: Les Mace, Past Mo-Ark Governor
M-A Fund.
The M-A Fund is used when M0-Ark has a candidate for an elected officer of Kiwanis International.
As we all know, Barbara Thompson is a candidate for the office of Vice President, Kiwanis International. Our desire is that she will be elected during the upcoming Kiwanis International Convention in Salt Lake City, Utah.
Barbara estimates that it will cost at least $2,000.00 to finance the brochures design, printing, mailing, handouts, and other related expenses.
Forward your contribution to: District Secretary, Mary Vaughn, PO Box 115, St Charles, MO 63302.
---
The new April Kiwanigram is out. See https://k14.site.kiwanis.org/wp-content/uploads/sites/315/2021/04/Kiwanigram-April-2021.pdf
MO-ARK Awarded Grant from Kiwanis Children's Fund
MO-ARK District Chair Nancy Hoff has issued an update on contributions to Kiwanis Children's Fund. See the report here: https://k14.site.kiwanis.org/kiwanis-childrens-fund/
Wright City, Rogers take top prizes in Mo-Ark Membership Contest
Wright City (Mo.) and Rogers (Ark.) are the winners of the first Kiwanis Missouri-Arkansas Membership Contest. The competition, intended to encourage member recruiting, started Nov. 1 and ended March 31.
Competition was in two groups of clubs: Group A, for clubs with 30 or more members, according to the official Kiwanis International Membership Report as of Nov. 1, 2020; and Group B, for clubs with fewer than 30 members, according to the official KI Membership Report as of the same date.
The winners of $22,000 in community service grants were be determined by the greatest percentage of membership increase during the contest period.
Wright City, a Division 6 club, led the 46 clubs in Group A, with an increase of 18.92%, based on adding seven new members, four of them in the last month of the contest. That will earn Wright City a first-place grant of $4,000.
The other Group A winners and their percentages of increase, along with the grants they won, are: 2nd place, Springfield Downtown (Division 13), 17.78%, $3,000; 3rd place, Crestwood-Sunset Hills (Division 9), 14.71%, $2,000; and 4th place, Florissant Valley (Division 7), 12.77%, $1,000.
All four winners in Group A are Missouri clubs. The top-ranking Arkansas club was Springdale, which had a gain of six members, or 6.74%, good for seventh place.
However, Rogers, an Arkansas Division 19, club swept Group B by more than doubling its membership in the contest period. Its winning percentage of 129.41 reflected 22 new members from its Nov. 1 count of 17. Thirteen of the new members were signed up in March.
That performance passed a previous leader, Liberty (Mo.), a Division 3 club, which finished second at 69.23%.
Thus, the Rogers Kiwanians take the top Group B prize, a $4,000 community service grant, and Liberty earns the second-place grant of $3,000.
Sedalia (Mo.), a Division 11 club, wound up third with a 60% gain after signing up six new members, all in the last month. That will earn a $2,000 grant.
Three fourth-place grants, each for $1,000, will go to Ritenour-St. Lous County, Trenton (Mo.) and Bentonville (Ark.). Each had a membership increase of more than 30%.
Group B included 134 clubs.
The 180 clubs in the Mo-Ark district had a net gain of 44 members overall during the contest period, closing March with 4,348 members.
Barbara Thompson of Florissant, Mo., membership coordinator for the district, noted that the 20 clubs showing an increase in Group A accounted for 70 net new members during the time span. The Group B clubs that had increases did even better, accounting for 108 net new members.
"Though a few of those 178 members may have come from clubs that have closed," she said, "I don't think that we would have had that many without this membership contest."
A.C. Paxton of Benton, Mo-Ark governor, congratulated the members of the clubs winning grants and pointed out that the district board established the contest, using reserve funds, as a means of encouraging clubs to get back to recruiting new members after a year of dealing with the coronavirus pandemic.
"'Each One Reach One' is our theme for this year," he said, "and there has never been a more important time for individual club members to help revitalize their clubs."
We've seen some excellent efforts in this competition, but the end of the contest should certainly not slow those efforts," he said. "We can all do more to spread the good name of Kiwanis in our communities."
Membership Contest grants may be used only for service projects, community improvement projects and new educational scholarships, not for general and administrative purposes. An accounting will be required in writing within 60 days of receipt of a grant.
Note: Below are charts showing the top 20 clubs in each of the two divisions (actually 22 in Group B since there was a 3-way tie for 20th place).
---
Nancy Hoff has issued an updated report on donations to Children's Fund by MO-ARK clubs. See
https://k14.site.kiwanis.org/kiwanis-childrens-fund/
---
Lt. Governor Training:
May 15, 2021, Ramada Inn, Branson, MO
Amplify. MO-ARK will rebate $100 of the $200 registration fee for the first 24 members to register. See program details below. Contact Mary Vaughan to arrange the rebate.
Kiwanis International 2021 Convention Cancelled. For details see: https://www.kiwanis.org/news/newsitem/news/newsitem/update-from-special-kiwanis-international-board-meeting
Prorated Dues
See the details in the Membership and Dues article: https://k14.site.kiwanis.org/membership-and-dues/
---

For the MO-ARK Education Day agenda, see https://k14.site.kiwanis.org/conventions/
Videos of the sessions are now available–
Risk Management with Stu Peterson https://youtu.be/QydbpudL0mE
Youth Protection with Melissa McMann https://youtu.be/tgADmzmykMI
Jumpstarting Clubs after Covid with Chris Martz https://youtu.be/xKhtJcAVGeY
Funding Your Projects with Angie Monger https://youtu.be/tObO9VOz750
Messages from Kiwanis Leadership https://youtu.be/5OvWoBpiDgw
Powerpoints are also available–
---
ECF Scholarship Application Date Extended to March 15
Fellow ECF Trustees:

Many of you have reported difficulty in maintaining contact with local schools and completing the Scholarship Application process this year.

During our January 19th meeting, the ECF Board approved extending the deadline for schools to submit scholarship applications to their local Kiwanis Club from January 15, 2021 to March 15, 2021 if needed. All deadlines are extended by 60 days: The deadline for Clubs to submit their grading forms and top applicants to the Division ECF Trustee is March 31 if needed. The deadline for ECF Trustees to submit their grading form and top applicants to the Scholarship Chair is now April 15.

These extensions are "IF NEEDED". If your Division's clubs were able to contact schools, and meet the original schedule there is no need to go back and reopen the application process. The extensions will be applied on a division by division basis. If your Division has some clubs who are just now able to contact their high schools, then by all means take advantage of the extension.

I am sending revised letters and application packets directly to the Clubs in the two divisions which do not have ECF Trustees nor Lieutenant Governors (2 and 20) to give them a chance to participate. Clubs in these two divisions will submit their applications directly to me for final scoring and selection of Division finalists.

Final scoring of all Divisional finalists will be completed by the Scholarship Committee by May 1, 2021.

I want to thank the Board for extending the deadlines to permit as many schools and clubs to participate as possible.

If you have any questions, please contact me by email (jbuckwalt@cableone.net or jbuckwalt@yahoo.com) or at (660) 626-3626.

John R. Buckwalter
ECF Trustee Division 1
Chair, ECF Scholarship Committee.
---
---
Cataloging Kiwanis Projects
Kiwanis International needs your help. Kiwanis wants to know what projects in our district carry the Kiwanis name. These include campgrounds, learning centers, playgrounds, buildings, senior living centers, retail stores, parades, festivals, events etc. They are trying to identify how and where the Kiwanis' name is being used. They are asking for your help, because we all cannot accomplish this enormous task without you.

The purposes are two-fold:
(1) To identify all the good that Kiwanis is doing. As we identify these projects, each District will be able to create a brag sheet demonstrating their success; and Kiwanis International can create a map showing all the areas where Kiwanis has benefited the community.
(2) To improve our liability protection through proper diligence and education.

As we compile information, Kiwanis International can work with District Leadership and District Risk Managers to obtain indemnification agreements and insurance certificates that will better protect the Kiwaniverse for all of its projects.

You will find an Excel spreadsheet on the MOARK website www.moarkkiwanis.org that shows you the information that they are looking for. Will you please fill out that Excel sheet with as many of the current projects that you are able to gather in your clubs? Then when complete please send the final sheet to the District Secretary, Mary Vaughan at kiwanismoark@outlook.com by March 1, 2021. Your assistance is greatly appreciated. For more information, don't hesitate to call Mary at 314-581-0497.
---
The February 2021 Kiwanigram is now available.
---
Gene Bartley Hospitalized
I want to let you all know that former governor Gene Bartley (2011-12) and current Earl Collins Foundation Secretary, has been in the hospital since Thursday, December 3, with blood pressure problems, low oxygen levels, and difficulty breathing. Jan says that he is improving, but so far the doctors are not talking about releasing him to go home. Please keep Jan, Gene, and family in your thoughts and prayers..
Everyone stay safe and well.
In Kiwanis service,
Barb Thompson
President,
Earl Collins Foundation
Missouri-Arkansas District of Kiwanis International
---
Amplify
Amplify is a new leadership training program from KI. Designed for new members, young leaders, and especially recent graduates from Circle K clubs. Past Governor Ron Hill is heading up the program for MO-ARK.
---
Dream Girl
MO-ARK is requesting assistance for a French girl who will have surgery at Children's Hospital in St. Louis in January. The surgery is funded by Kiwanis clubs in France, but they are requesting assistance for the family while in St. Louis.
See details below. Contact Barb Thompson or Carla O'Brien for more info.
The notice has been revised to include the latest requesting contributions to Kiwanis Gateway Foundation for the benefit of Ilyana.
---
Last Call for Zeller Fellowship Gifts
The Kiwanis Children's Fund has announced that the opportunity to give Zeller Fellowship gifts will end on December 31, 2020. The program of vaccinating mothers to protect them and their babies from tetanus will continue and gifts to fund the elimination of tetanus will be accepted by the Kiwanis Children's Fund.
So, if you would like to honor someone with a Zeller or make a Zeller Fellowship gift in your own name, the time to do it is now. The MO-ARK District has some matching funds available. A gift of $1000 will be matched by $250 for the total $1250 Zeller Fellowship gift. Such a gift will protect and save over 600 mothers and their babies. These gifts to the Kiwanis Children's Fund are also tax deductible.
Only 12 countries remain to complete the vaccination protocol which will protect and save their mothers and babies. Kiwanis members are committed to finishing this project. Thank you for your generosity.
For more information you may contact MO-ARK District Eliminate Advocate, Roger Jespersen, 573-803-0757 or by email at rogerki16@gmail.com.
---
Gov. AC Paxton Hospitalized
Secretary Mary Vaughan posted a notice on Facebook: I just wanted you all to know that Governor AC Paxton is in the hospital with pneumonia and other issues. Please keep him in your prayers. I will keep you all updated as information arrives.
---
Blog
Dolores Stamps has suggested we begin a blog on Kiwanis items. See the Blog listing in alphabetical list of pages or under Newsletters in the horizontal menu. The plan is to add a new one monthly. Photos, graphics, colorful fancies, etc., can be included. These come from Kiwanis volunteers. Thank them for their service. Click here for the blog page.
---
Club Coaches
Barb Thompson as MO-ARK's Membership Co-ordinator is asking Lt. Governors to recruit coaches to help clubs in the area. Coaches will receive training, be certified and serve two year terms. For details, see the job description.
Contact your Lt. Governor if you would like to volunteer.
---
Covid-19 Waivers
Kiwanis International recommends that those attending Kiwanis meetings be asked to sign a waiver of liability for Covid-19 infections. The suggested form is here:https://www.kiwanis.org/…/covid-travel-liability-and…
More details are here: https://www.kiwanis.org/…/guidelines-help-clubs-meet…
---
Latest additions: ECF Revises Fiscal Year; October Kiwanigram issued; Distinguished Club for 2019-2020 revised
The MO-ARK website continues new additions and refinements. The latest–
New Fiscal Year for Earl Collins Foundation. ECF has revised its fiscal year to run from October 1 to September 30, the same as most Kiwanis clubs. This should end the confusion about getting contributions in before year end.
Kiwanigram October issue is out. Click here. Or see the Kiwanigram listings on the Menu.
Distinguished Club 2019-2020 revised eliminating convention attendance requirement after many were cancelled. See: https://k14.site.kiwanis.org/wp-content/uploads/sites/315/2020/10/2019-20-KI-Distinguished-Program-Criteria-revised-20201024.pdf
Scholarships. See the new Scholarships page for links to scholarships offered by Kiwanis Children's Fund to Key Club and Circle K members. Also links to Earl Collins Scholarships and how to find Kiwanis clubs offering scholarships: https://k14.site.kiwanis.org/scholarships/
Eliminate Report. Roger Jespersen, MO-ARK Eliminate Advocate, issued a report at the House of Delegates meeting in August. It is posted on the Eliminate News page. Click here. He also issued the Giving Report through August 31. Click here.
Amazon Smile. Amazon will donate a percentage of purchases on Amazon Smile to a charity of your choice. Earl Collins Foundation is available. So is Kiwanis Children's Fund.
MO-ARK Distinguished Club 2020-2021. MO-ARK has announced criteria for Distinguished Club in 2021. Distinguished Club for 2019-2020 is also available. (Distinguished Club requirements were revised removing the convention attendance requirement for 2019-2020 because most were cancelled.) Click here. Send the form to Mary Vaughan by November 30, 2020 for 2019-2020.
MO-ARK CLE Officer Training Part 2. Videos are now posted on You Tube. KI webinar videos are still available. See https://k14.site.kiwanis.org/cle-news/
ECF Scholarship Applications for 2020-2021 are now available. Click here
Club Facebook addresses. Click here
MO-ARK Giving Guidelines for 2020-21 have been issued. Click here.
Free Club Website from Kiwanis International. For more click here.
Eliminate Giving Report, August 31, 2020. Posted under the Eliminate menu item, or click here.
Cybersecurity. Kiwanis international has issued a PowerPoint with tips on avoiding hackers. Some of the suggestions are a bit challenging to achieve (such as including no names or contact information in your Kiwanis posts on line), but others are practical tips to identify and avoid phishing attacks. To download the PowerPoint click here. Or see the Cybersecurity item under the Resources Menu item.
Governor's Interclub Contest Rules for 2019-20. Click here.

Changing Club Dues. Dues is now part the Mandatory Policies, part of your club By-Laws. KI has provided instructions on how to revise Mandatory Policies. Click here.

MO-ARK Builders Club Website. Click here.
Clubs by Division Click here.
Clubs by Region Click here. Includes club membership numbers.
---
Carla Proetz Obrien Elected MO-ARK Governor-Elect for 2020-218/2/2020 – District: Missouri-Arkansas
News from the House of Delegates meeting in Springfield
As COVID 19 cancelled our MO-ARK convention in Springfield this weekend, I was elected by only a small House of Delegates (in person and on Zoom) to serve as your new Governor-Elect. I'm looking forward to working with you all, and taking advantage of all of the new ways that our clubs can operate and perform service spurred by unique conditions these past months. My motto and song will be: We Are Family!

For those of you unfamiliar with me, I reside in the St Louis MO area, member of the Gravois- St Louis County Club, have served two years at Lt Governor, two years as MO-ARK trustee, and serve on the Earl Collins Board. I was raised in a Kiwanis family with my Dad a 60+ year Kiwanian and past Lt Governor, and my Mom a 50 year member of Sinawiks (the Kiwanis ladies auxiliary of days gone by).
I am so looking forward to working with you all! – or in ARK, all y'all!
---
Annual Report Information State filing due August7/27/2020 – District: Missouri-Arkansas
Annual Report Information
The return typically certifies that your corporation still exists and reports its current mailing address and the names of an officers and directors. The return can be filed on paper but in some states online filings are accepted. You will be notified by mail at your address of record when the return is due. Most are due annually, but Missouri allows two year fillings.