Dues and New Member Fees
Missouri-Arkansas District of Kiwanis Revenue
DUES FOR NEW MEMBERS
Soon you can spend more time improving your community — and less time figuring out how
much to charge new members. A simplified dues policy begins on October 1, 2021. On that
date, the New Member Fee will be eliminated from Kiwanis International and all Kiwanis
districts. Instead, anyone who joins a Kiwanis club during the Kiwanis year will be charged
prorated dues and fees, based on the month they join.

On each subsequent October 1 (the first day of the Kiwanis year), all members will then be
assessed the annual dues-and-fees amount.

The elimination of the New Member Fee was decided by the Kiwanis International Board in
October 2019 to take effect on October 1, 2021.

Kiwanis International member dues are US$52 per year for Tier A; $34 for Tier B; and $23 for
Tier C clubs. *

These amounts have not changed since 2015 and, per Kiwanis International bylaws, can only be
changed by a vote of the delegates at a Kiwanis International convention. (Each district finalizes
its own dues and fees based on its budgetary needs for the upcoming administrative year by
mid-September for implementation in October. See the current district dues at
kiwanis.org/districtdues.)

Kiwanis International uses the proceeds from dues and fees to fund meeting expenses,
membership materials, shipping, grants, technology infrastructure and other expenses.
Additionally, English-speaking members in the U.S. and Canada are charged $8 annually for
Kiwanis magazine and $17 for liability insurance and Directors & Officers Insurance. Those fees
will also be prorated for new members.

This chart will help you figure out the charges assessed by Kiwanis International for clubs in Tier
A.

Visit kiwanis.org/dues for a monthly breakdown of dues assessed for clubs in Tier B and Tier C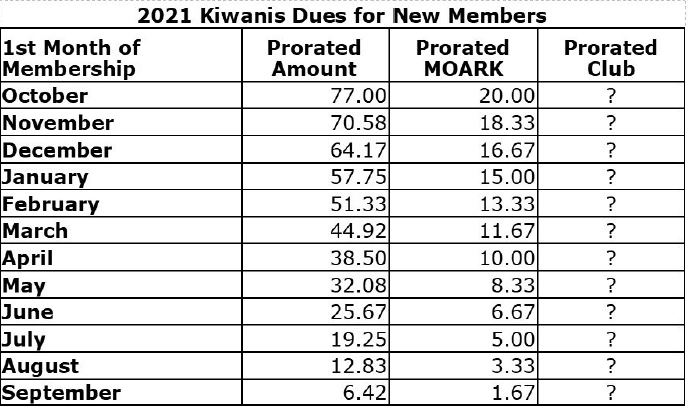 2021-2022 Kiwanis Dues:
All Kiwanians in our district pay annual dues to Kiwanis International and the MO-ARK District as part of the dues paid to their club. Dues are due on October 1, 2021: $97.00. KI bills the Kiwanis club the amounts shown. Kiwanis clubs in turn bill their club members to collect dues as specified by their Board of Directors.
The breakdown of this amount is as follows:

Kiwanis International Dues: $ 52
Kiwanis International Magazine: $ 8
Member's Liability Insurance: $ 13
Directors and Officers Liability Insurance $ 4
Total International $ 77
District Dues: $ 20
Total $ 97
The only exceptions are prior Key club and Circle K students. They do not have to pay dues of $52 for a period of two years but are required to pay $ 25 for the magazine, liability Insurance and directors and officers Liability Insurance. They are billed district dues of $3.25 for the same period.
A Life Member pays a one-time fee, with the clubs approval, of 15 times the current annual dues ($52) or $780.  The member still has to pay $25 for the magazine, liability insurance and directors and officers insurance plus district dues of $20.
For more about Membership and Dues see: https://k14.site.kiwanis.org/membership-and-dues/
When starting a new club: Check with Kiwanis International