Missouri-Arkansas District
window.dataLayer = window.dataLayer || [];
function gtag(){dataLayer.push(arguments);}
gtag('js', new Date());
gtag('config', 'G-MHG1CX3YZL');
Contact us at 636-575-4070 or email: [email protected]
Welcome to the Web Site of the Missouri-Arkansas District of Kiwanis International. Kiwanis has a plan for service in your community and we invite you to join us.

Earl Collins Scholarship Applications for Seniors Graduating 2024
Applications are now available. See: https://dwyq4sa1lz55y.cloudfront.net/uploads/sites/315/2023/09/2024-Earl-Collins-Scholarship-Application.docx
Grading forms for clubs are also available. See: https://dwyq4sa1lz55y.cloudfront.net/uploads/sites/315/2023/09/2024-Earl-Collins-Scholarhip-Grading-Info.docx
MO-ARK Distinguished Club 2022-23
See: https://dwyq4sa1lz55y.cloudfront.net/uploads/sites/315/2023/09/2022-2023-Distinguished-Criteria-MOARK.pdf
Kiwanigram
The September issue of Kiwanigram is now available. See: https://dwyq4sa1lz55y.cloudfront.net/uploads/sites/315/2023/09/Kiwanigram-Sep-2023.pdf
Or see the Kiwanigram page: https://k14.site.kiwanis.org/kiwanigram/
Governor's Column
See the September column here: https://k14.site.kiwanis.org/governors-column/
MO-ARK History Book
The MO-ARK History committee headed by Les Mace announced the new history book at the convention. See the flyer and more info on the history page: https://k14.site.kiwanis.org/district-history/
Governor's Schedule
Monday, Sept. 11, 6 p.m. — Special Board of Trustees meeting via Zoom.
Monday, Sept. 18, 7 p.m. — Lieutenant Governors meeting via Zoom.
Tuesday, Sept. 19, noon — Governor's visit to Paragould Kiwanis Club, Grecian Steak House, 210 Airport Road, Paragould, Ark.
Monday, Sept. 25, 6 p.m. — Governor's Council via Zoom.
Monday, Sept. 25, 7 p.m. — Lieutenant Governors meeting via Zoom.
Facebook Tools — MO-ARK Convention 2023
At the 2023 MO-ARK Convention, Bryce Kinder had a Powerpoint explaining how advertising on Facebook can be used to recruit membership and to advertise fundraisers, etc. The Powerpoint is now available.
A similar presentation from 2023 Education Day is posted on the Membership page, also the permanent home of the Facebook Tools Powerpoint.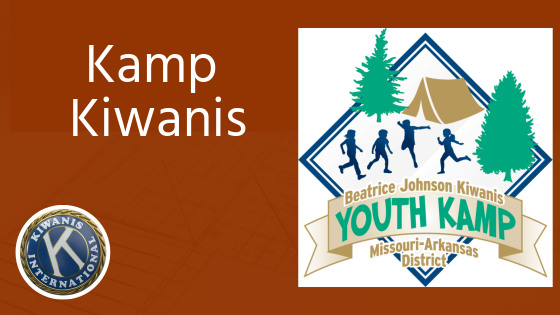 BJKYK Seeks Board Members
On October 1st each year a few members of the Beatrice Johnson Kiwanis Youth Board complete their term of office. New Kiwanians are invited to serve for two to three years.
The time commitment is about 26-28 hours a YEAR! Some sweat equity might be involved. If you can't donate labor, you could tell the BJKYK Story to other Kiwanis clubs across Missouri and Arkansas (or other civic, youth groups). The rewards are many; you might even get a s'mores hug from a happy scout!
Please consider making this a commitment for 2023 or even 2024. The Board has set up rolling years of service so that a few new faces are added at beginning of each Kiwanis Fiscal year.
For more information call Sam Taylor, President or Dolores Stamps, Secretary at 479-799-1687 or any other member of the current Board.
You will be blessed! KIDS NEED KIWANIS!
Dolores A Stamps
For BJKYK Board
479-799-1687
Flexible people never get bent out of shape!
[email protected]
For more info, see the Beatrice Johnson Kiwanis Youth Camp page
Earl-Collins Foundation Scholarship Winners
Earl Collins foundation has announced the winners of this year's $1000 scholarships. See their page for the listing: https://k14.site.kiwanis.org/earl-collins-foundation-scholarships/
Facebook Advertising for New Members or Your Events
At MO-ARK Education Day, Sarah Moreland Byrne, of Kiwanis International, presented "Strategies for Using Social Media as Club Tools," focusing on Facebook. Her presentation can be viewed at https://www.youtube.com/watch?v=jV33UGHc40k.
She suggested advertising on Facebook for events or new members. Ads can go to a defined group up. Design your group to reach 10k prospects near your zip code. You can apply numerous parameters to reach your target audience. Age 30+? Begin at morning coffeebreak, 9:30 am, when they may be looking for something to do later?
Budget $100 and $3 or $5/day. Your ad goes to all 10k prospects until you get 50 responses (billed at $0.10 ea). You get a list of prospects to contact. Ads and bots can eat up your funds but a cleverly worded ad might get response. To reach new members she suggested $6 to $9 per new prospect is typical.
Kiwanigram
The March issue is now available. See https://dwyq4sa1lz55y.cloudfront.net/uploads/sites/315/2023/03/Kiwanigram-March-2023.pdf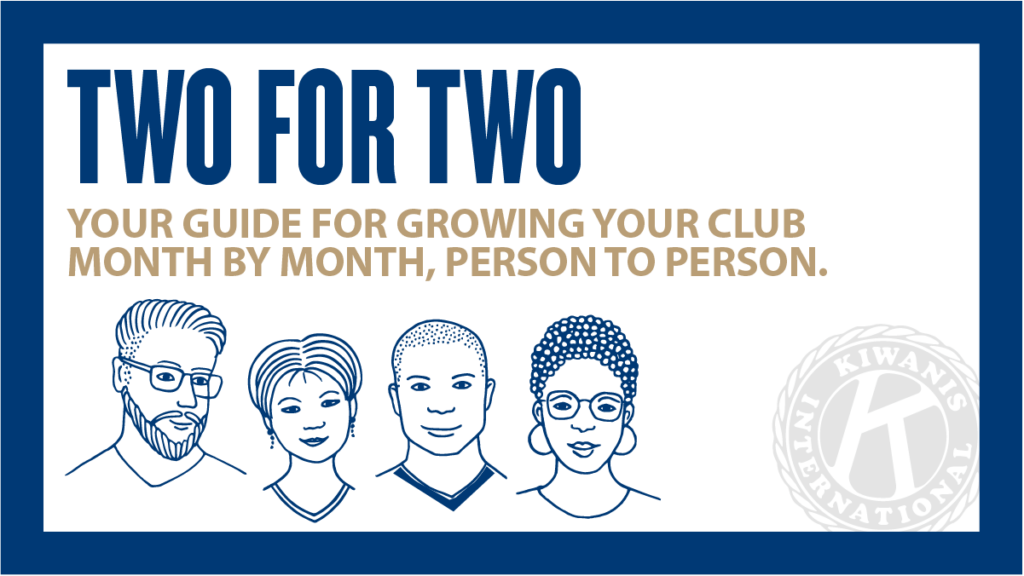 For more see the Membership Strategies page: https://k14.site.kiwanis.org/membership-strategies-2022/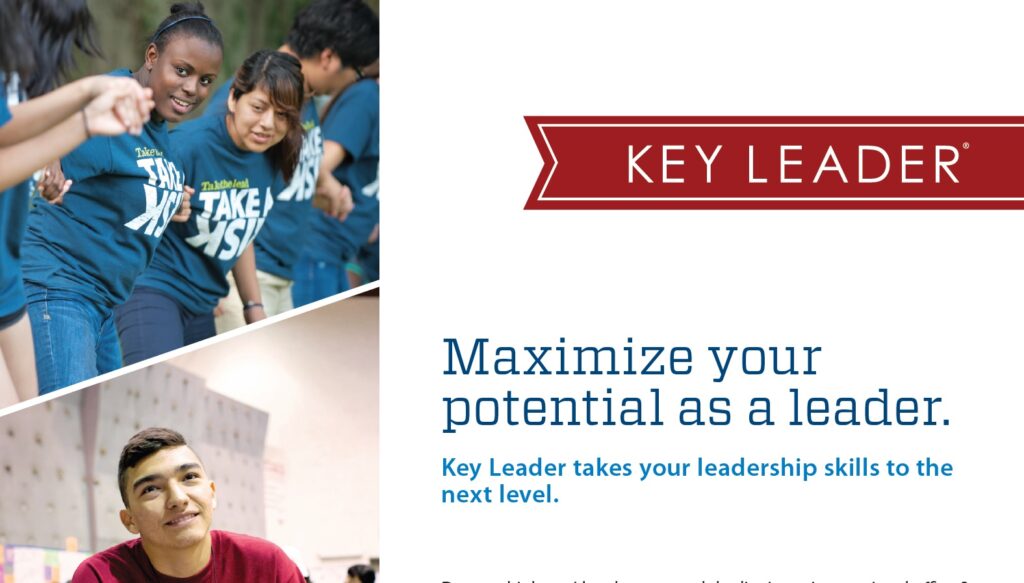 Key Leader Camps 2023
MO-ARK has announced plans for Key Leader 2023. Camp dates are–
April 28-30, 2023: Camp War Eagle, Rogers, AR
October 13-15, 2023: Camp Mihaska, Bourbon, MO
November 3-5, 2023: Camp Tanako, Hot Springs, AR
Fees are the same as last year: $195 for student participants, $150 for student facilitators and gratis for adult staff members. That includes the district Key Leader committee and teachers/faculty that wish to attend.
The Key-Leader.org website is being updated and should be able to accept registrations for the April camp in two to three weeks.
We encourage you to promote and recruit students and Key Clubs and Kiwanis Clubs to attend. Since there was a long hiatus during COVID, few students have attended before and may be unfamiliar with the great Key Leader program. Your help is greatly appreciated.
Thank you all for your assistance!
John Goss, Missouri-Arkansas District Chair
Kiwanis Key Leader Camps
[email protected]
501-350-7279

https://www.kiwanis.org/convention/2023-convention?_zs=NuOge1&_zl=50al8
West Little Rock Kiwanis Charter — December 6, 2022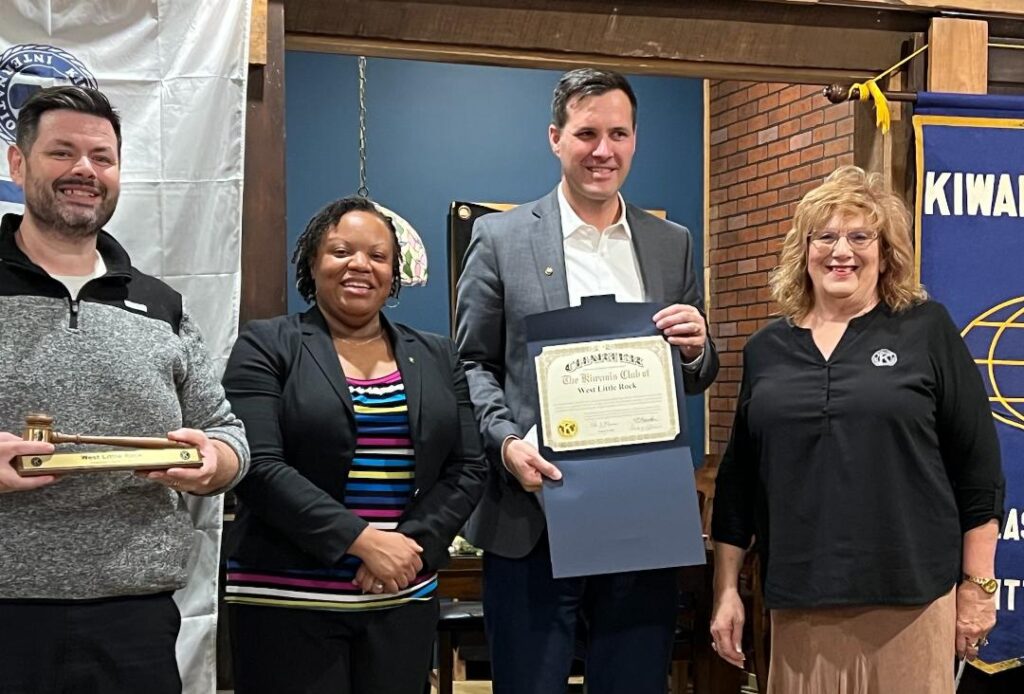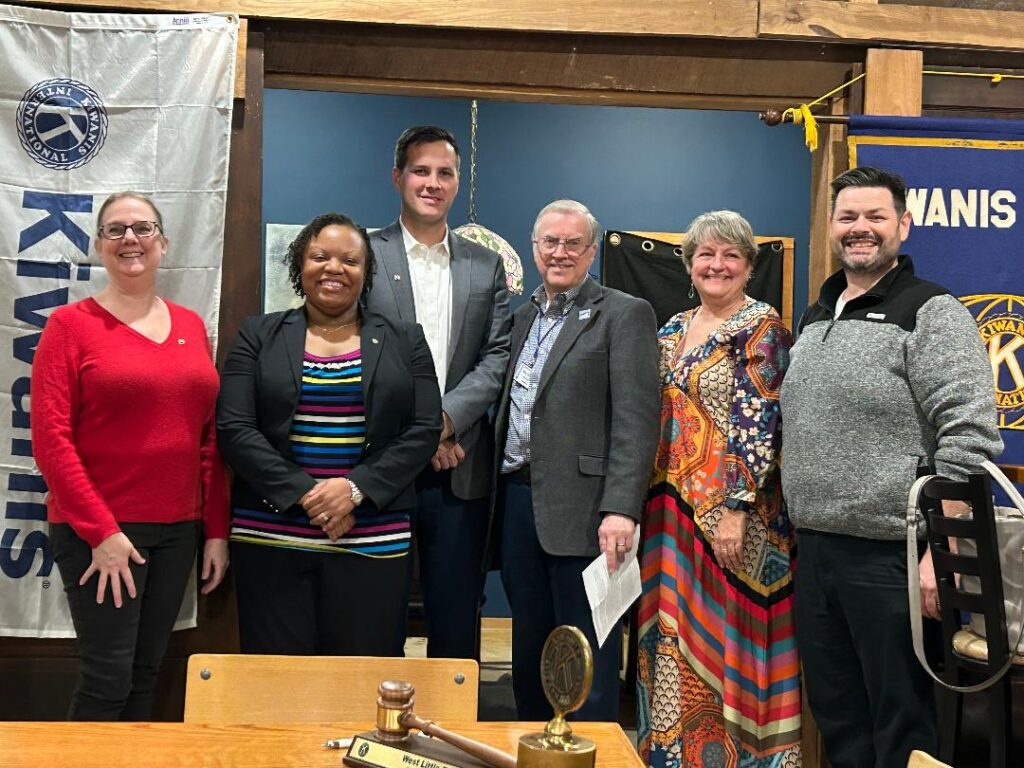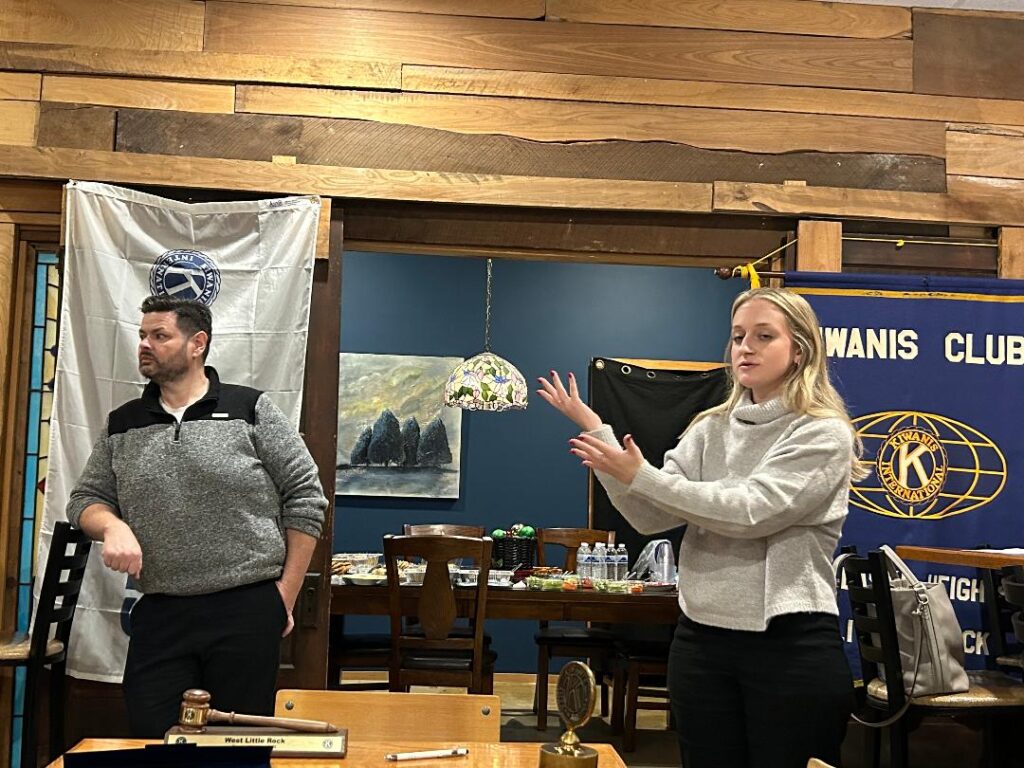 Mo-Ark History Book 2023
The last Missouri-Arkansas Kiwanis District History Book was published in 1995, which means that we have a lot of "catching up" to do as we prepare for the 2023 edition.
We will have printed history books to sell during the District Convention next August. The Earl Collins Foundation will provide the books, with all proceeds to go to the ECF.
Listed below are the chapters and members showing the area of Mo-Ark history that they have agreed to research and write a chapter about:
Aktion Club, Dolores Stamps; BJK Youth Kamp, Jerry Martin; Builders Club, Bill Dooley; Circle K, Richard Hammond; Community Service, Les Mace, Conventions, Jennifer York; Earl Collins Foundation, Les Mace; Key Club, Jim Fritz; Key leader, John Goss; Kiwanigram, Mary Vaughn; Kiwanis Children's Fund, Roger Jespersen; Kiwanis International, Paul Sherman; MoArk Mid-Year, Susan Lafond; MoArk Trivia, Les Mace; Past Governors, Carla O'Brien; Past Lieutenant Governors, Tom Wiles; Website, Paul Eckler.
The oldest edition of a Kiwanigram that I have on hand is for October 1926. It contains a lot of information along with other older editions in the 1930's and 1940's.
The timeline is to have any information, questions or suggestions forwarded to the writers of the chapters no later than December 31, 2022.
Mo-Ark History 2023, Community Service and Service Leadership
An added feature of the Mo-Ark History 2023 book is to feature a section highlighting individual club Community Service and Service Leadership. As we know, community service with an emphasis toward children is the bottom line of Kiwanis. Please include the name and location of your club and information about Community Service or Service Leadership and events. The committee will select the ten best Community Service and the ten best Service Leadership projects to include in the history book.
Mo-Ark History 2023, Articles
Photos from club projects are encouraged. Preference will be given to photos of Kiwanians participating in and interacting with children at service projects. Please include a brief description of each photo and the names of the Kiwanians featured in the photo. The photos should be submitted by email and have the suffix or ending of .jpg or .jpeg. Preferably with a dots per inch (DPI) of 600 or more.
All articles shall be submitted in Word format.
Chapters to be included in the Mo-Ark 2023 History Book shall be submitted to Les Mace by e-mail to [email protected] no later than January 31, 2023.
Les Mace., CHAIR
November 11, 2023
---
Mo-Ark has several key positions open
Help wanted.
With the new Kiwanis year under way, the Missouri-Arkansas District is in need of several lieutenant governors and a couple of other key leaders.
While having been a club officer is a strong qualification, the district's bylaws stipulate only that a lieutenant governor "be an active member in a club of the district" he or she represents. Actually, that requirement was modified at this year's Kiwanis International Convention to allow someone from outside the division to fill in the position if "no one from within the division is willing or able to serve."
District bylaws specify that the clubs in each division should elect its lieutenant governor before the annual District Convention, to take office Oct. 1. The election is to be conducted by the current LTG unless he/she is a candidate.
Two years ago the bylaws were amended to provide that the term of the lieutenant governor would be two years, and a term limit was deleted — both becoming effective in 2021.
If a division fails to elect an LTG, or if a current LTG becomes unable or unwilling to complete a term, a vacancy can be declared, and the District Board of Trustees can appoint someone to fill the position.
If that happens before Oct. 1 of the first year of the term, the appointment would be for one year, and the division would then hold an election before the beginning of the second year. If less than one year remains, the board can appoint someone to fill the remainder of the term.
Here are the divisions in which Mo-Ark currently has vacancies:
Division 14 (includes Cape Girardeau, Charleston, Dexter, Poplar Bluff, Scott City and Sikeston clubs) — term expires 9-30-23.
Division 16 (includes Corning, Forrest City, Jonesboro, Kennett, Osceola, Paragould and Wynne clubs) — term expires 9-30-24.
Division 22 (includes Crossett, Helena-West Helena, Monticello, Pine Bluff and Stuttgart clubs) — term expires 9-30-24.
Division 25 (includes Little Rock, West Little Rock, North Little Rock and Pulaski Heights clubs) — term expires 9-30-24.
The Mo-Ark bylaws list the specific duties of the lieutenant governor as:
1. Providing support and assistance to the clubs in their division.
2. Planning and presiding at divisional meetings, under the direction of the District Board.
3. Assisting the Governor and the District Board in communicating and implementing the plans and goals of the district in their divisions.
4. Reporting to the Governor about the condition and activities of clubs within their divisions.
5. Visiting each club in the division as many times as required by the district.
6. Help in training of the incoming club officers.
Bottom line: The lieutenant governor is a critical lifeline between the clubs and the district and international offices. You can make a difference and learn a lot about Kiwanis while serving in this position.
Mo-Ark is also in need of two key leaders because the incumbents have accepted positions outside the district.
One is the partnership coordinator. As defined by KI, "the Partnership Coordinator is responsible for connecting clubs with Kiwanis International's official partners and supporting clubs in developing and maintaining signature projects in their communities. The Partnership Coordinator may also help form new partnerships in selected regions, applicable to those areas."
The other position is chair of the district's special Committee on Diversity, Equity and Inclusion. This is a new position started last year, and the new committee leader would have the opportunity to help form a committee.
For more information about both positions, go to www.kiwanis.org.
Anyone interested in filling any of these positions should contact Governor Roy Ockert by email at [email protected] or by cell at 870-930-5504.
Earl Collins Scholarships
Applications for the 2023 Earl Collins Scholarships are now available on the Earl Collins Scholarships page. See https://k14.site.kiwanis.org/earl-collins-foundation-scholarships/
---
Secrets of the District
At the 2022 MO-ARK Convention in Springfield, MO-ARK Secretary Mary Vaughan gave a presentation on this topic. Download her slides as a pdf below.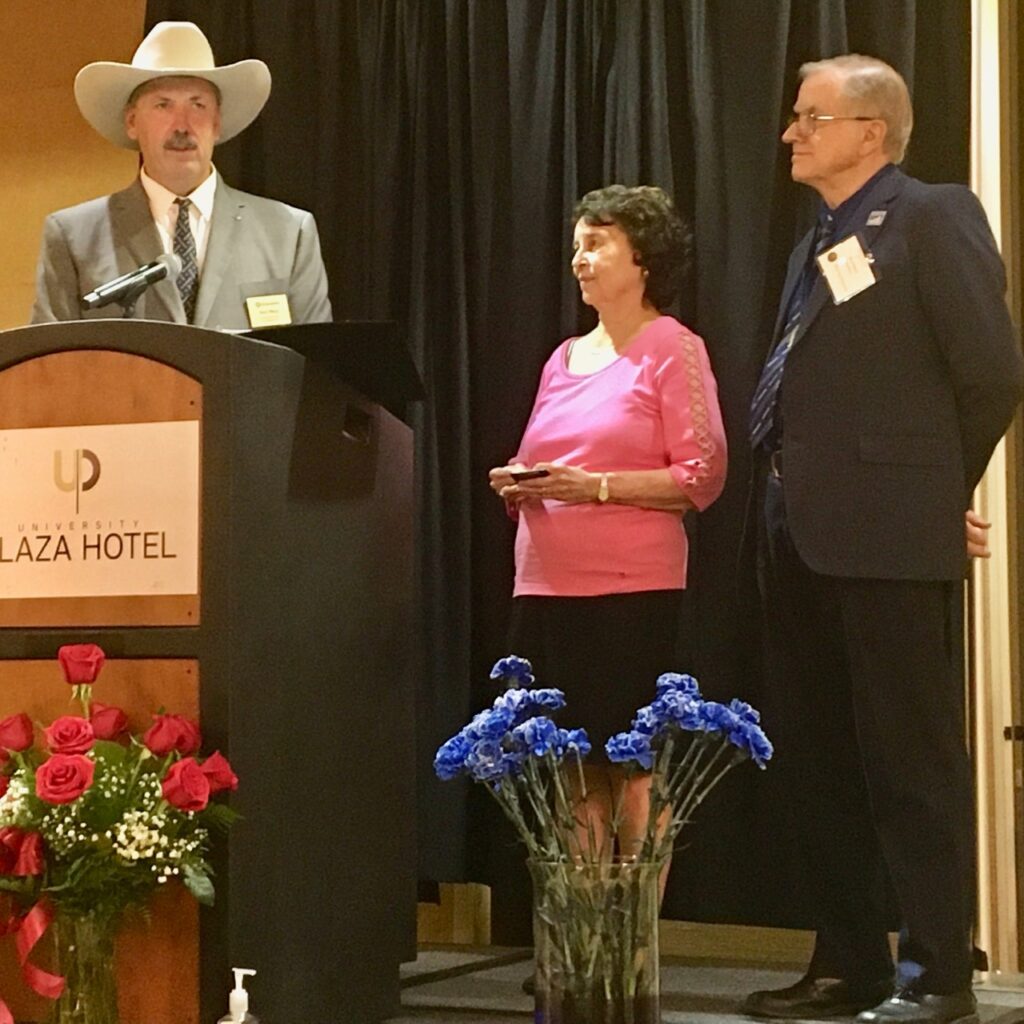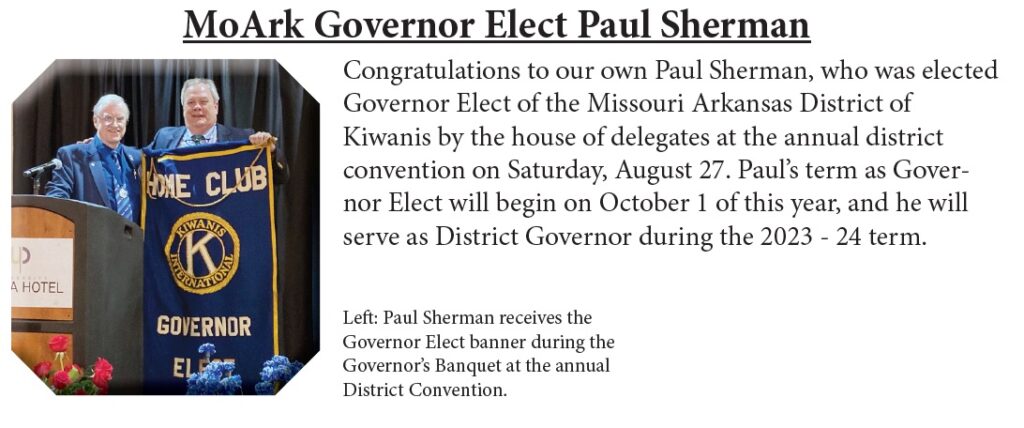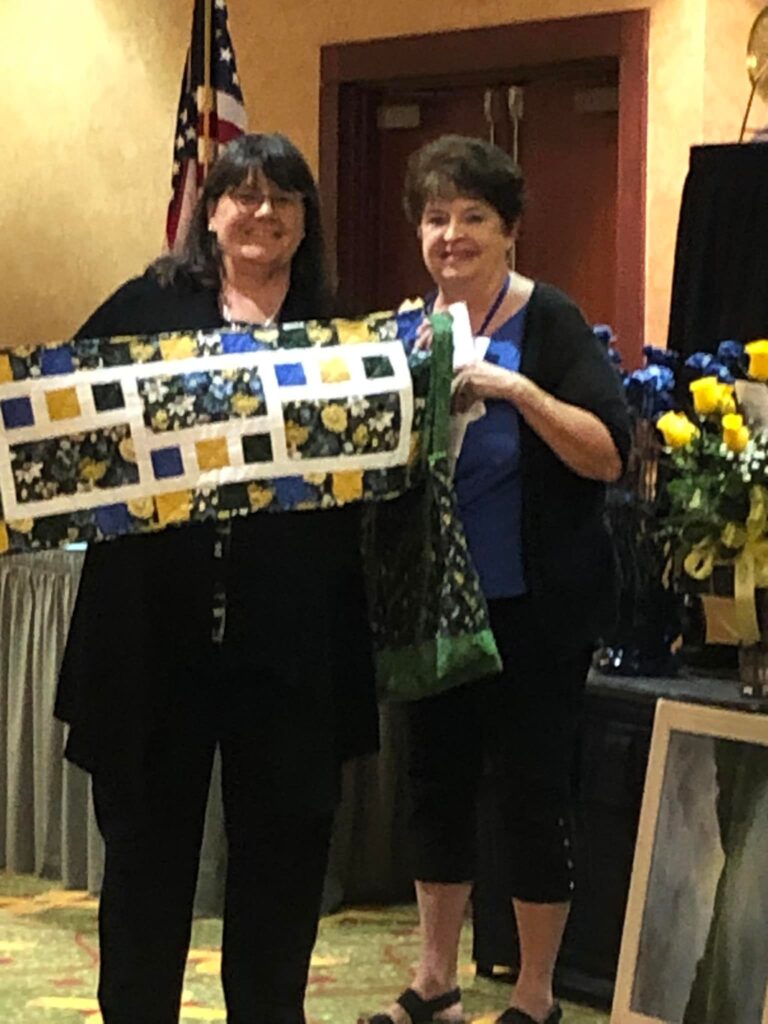 The August Kiwanigram is now available. See: https://dwyq4sa1lz55y.cloudfront.net/uploads/sites/315/2022/08/Kiwanigram-August-2022.pdf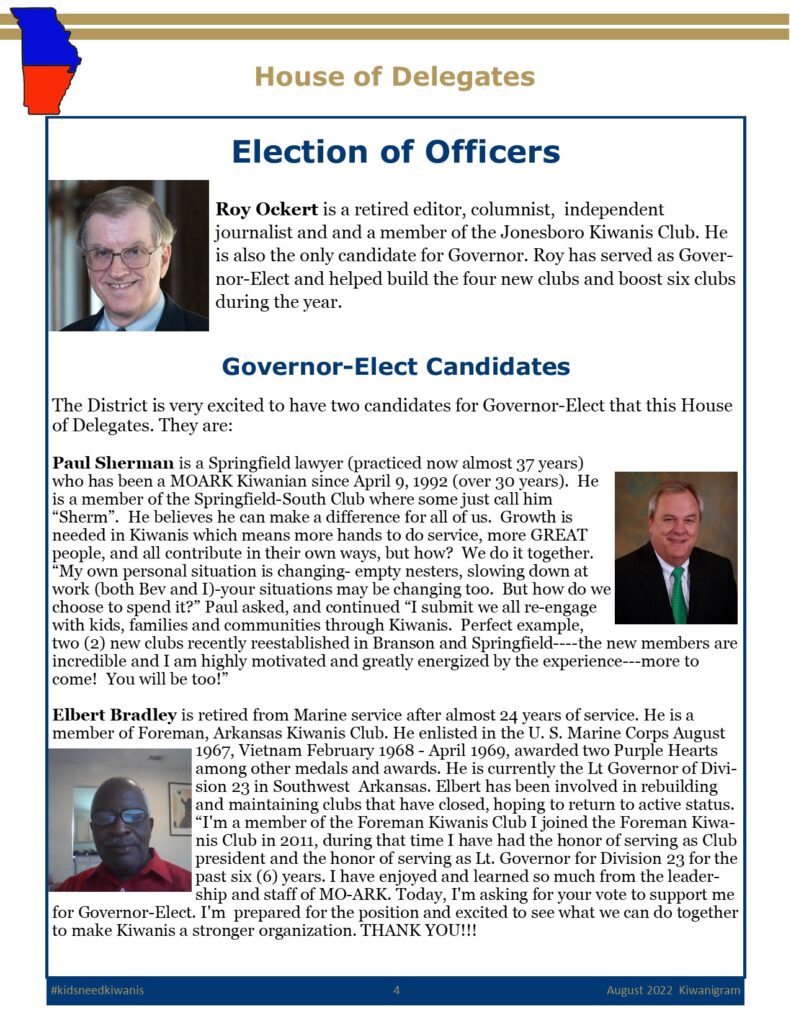 Dr. Wil Blechman Fellowship
Kiwanis has announced a new fellowship for those who donate $2500 to Kiwanis Children's Fund. Proceeds will go for service to young children rather than Eliminate.
https://www.kiwanis.org/childrens-fund/give/dr-wil-blechman-fellowship?fbclid=IwAR1kOq1nMoyKdeA8TW8IRq9ZIG5EoDxKb7GxGryM2zLEhwTdgTbLcteTzIs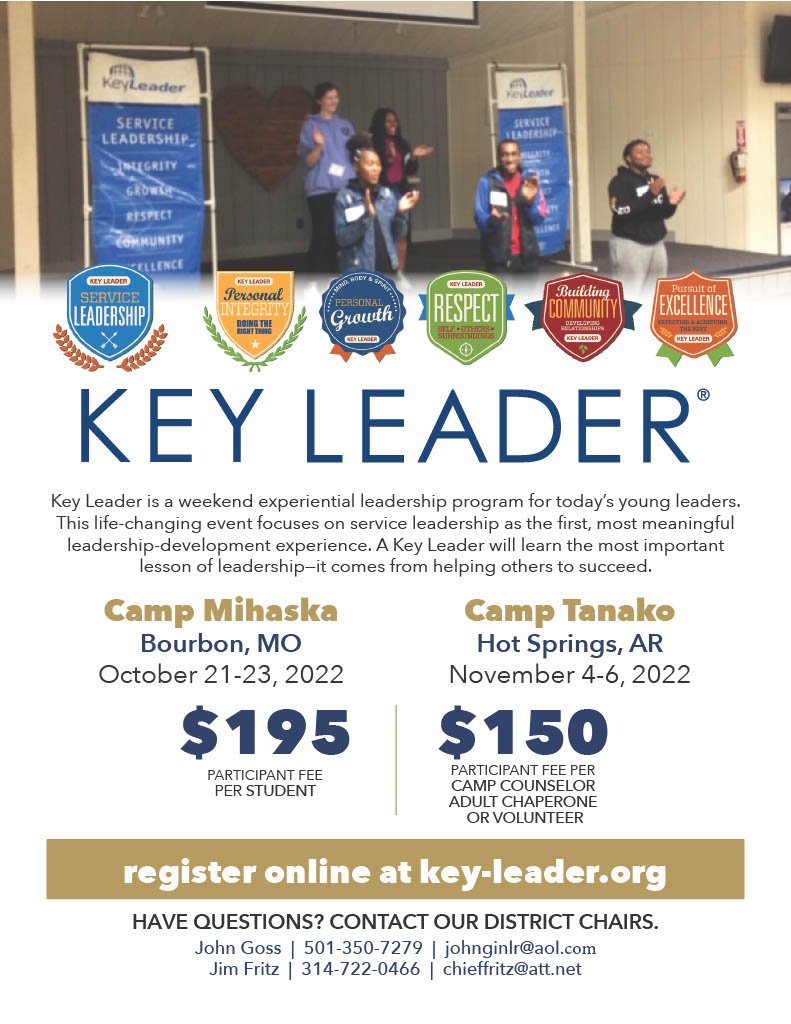 ---

Key Leader Returns for 2022
See: https://k14.site.kiwanis.org/key-leader/
---
Membership Strategies – 2022
See Roy Ockert's video and forms here: https://k14.site.kiwanis.org/membership-strategies-2022/
---
KI Waives Enrollment Fees for former SLP Members
KIWANIS INTERNATIONAL BOARD OF TRUSTEES MINUTES, October 2, 2021, p 5
ENROLLMENT FEE
Upon recommendation of the Board Committee on Audit and Finance, it was moved and adopted:
That the Kiwanis International Board approves the following change to Procedure 342.2 –
Enrollment Fee:
342.2 –Enrollment Fee (4/13)
Prorated dues, magazine, and insurance are waived for: Kiwanis club members who join
another Kiwanis club within a six-month period during the same administrative year and for
former [deleted Key Club or Circle K] club members of a Kiwanis International Service Leadership Program. (10/90) (10/19)
Missouri-Arkansas Kiwanis, Inter-Club Rules, 2021-2022
The new Inter-Club rules have been issued. See: https://k14.site.kiwanis.org/governors-interclub-contest/
---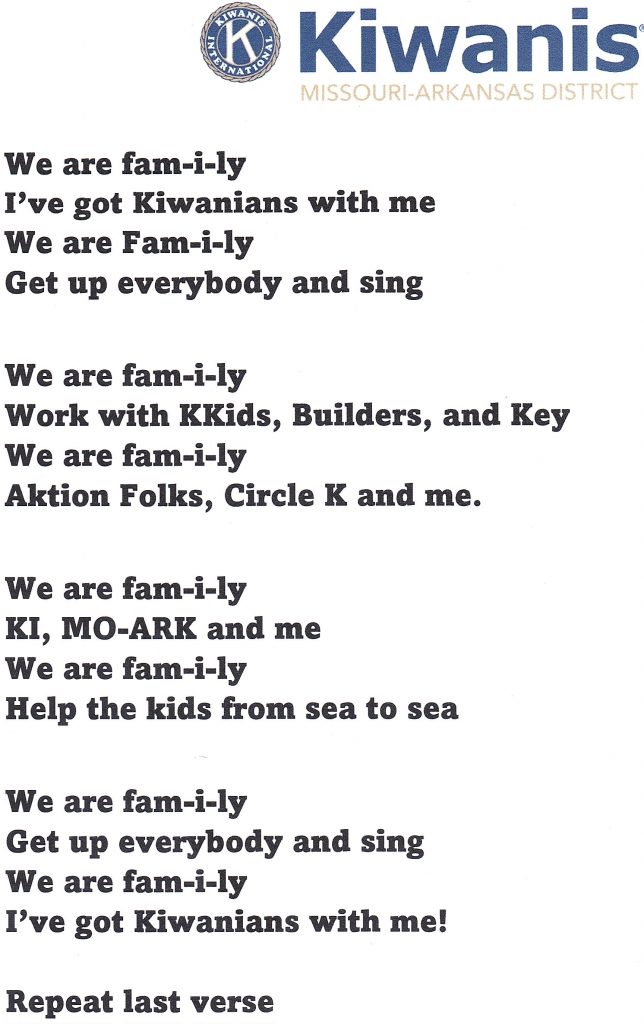 Below is the MP4 of Katie Page of OFallon Club singing We Are Family – Kiwanis Style. Also attached are the lyrics. Feel free to disseminate as you see fit – cover the earth!
We are going to ROCK this year!
Warmest regards,Carla A O'Brien
MO-ARK Kiwanis Governor
(Save on your cellphone for easy access.)
---
Carla OBrien Elected Governor; Roy Ockert Elected Governor-Elect
It was my honor to be elected and installed Saturday as governor-elect of the Missouri-Arkansas District of Kiwanis International. In this photo taken by Kiwanigram editor Diane Baker of Batesville, the newly installed governor, Carla O'Brien of High Ridge, Mo., presents me with a governor-elect badge and pin. Actually, we won't take office until Oct. 1. The installation took place during the 71st annual Mo-Ark District Convention, held Friday and Saturday at the Red Wolf Convention Center in Jonesboro.
---
Earl Collins Foundation has a new brochure. Check it out on their page or–
---
---
Shorthand: You can reach this site at www.moarkkiwanis.org or by searching on Google or Bing.
Welcome to the new MO-ARK Website. This a bit of an overview. The information is all the same but the presentation is different with a broad screen device like a laptop or desk top and a narrow screen device like a smartphone. My comments compare my desktop experience with my Amazon Fire 7.
Both have links at the very top to the MO-ARK Facebook page and KI's Instagram page.
Broad screen has the main menu horizontally across the top of the screen. We have nine main topics with additional pages listed alphabetically below them. A powerful search box that lets you search the text on all 90 pages.
The main screen is in two columns with text on the left and the top postings on the MO-ARK Facebook page on the right. Below that is an alphabetical list of all 90 pages by title.
Narrow Screen has the Facebook and Instragram links at the top. Click the small white button on the upper right to see the menu. It presents the text as a single column followed by the search box, Facebook posts and then the alphabetical list at the bottom.
We have retained the News column as one of the pages at the top.
I think you will find them both informative but note the broad screen has a bit more umph.
It's been fun and challenging putting the website together. If you spot any errors or dead links, etc, please pass them along. Suggestions for improvements are welcome.
Paul Eckler
MO-ARK Webmaster
[email protected]
636-273-5398