Missouri-Arkansas District
Welcome to the Web Site of the Missouri-Arkansas District of Kiwanis International. Kiwanis has a plan for service in your community and we invite you to join us.

---
MO-ARK Membership Contest 2021-2022
Mo-Ark board authorizes second Membership Contest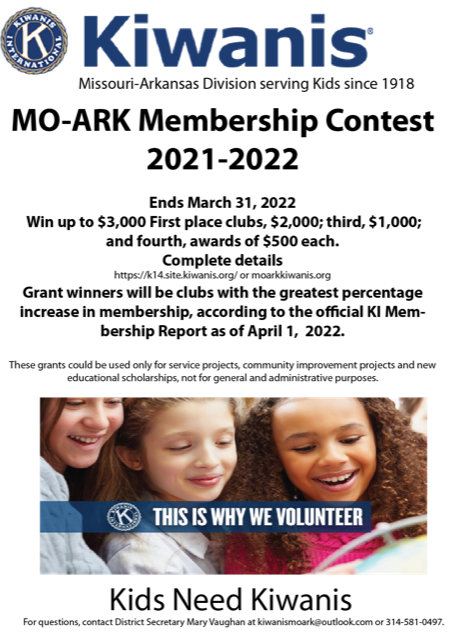 See the District News column for the winners.
A second Membership Contest has been approved by the Missouri-Arkansas District Board of Directors, to start Oct. 1 and continue until March 31, 2022. The district completed its first contest earlier this year.
All clubs in the district are eligible to compete in one of two divisions, depending on their official membership total on Oct. 1. Group A will be for clubs with 30 or more members; Group B will be for clubs with fewer than 30.
The district board, meeting via Zoom on Sept. 28, approved the use of $15,000 to be distributed as grants to clubs that have the largest percentage of membership increase between Oct. 1 and next March 31.
Grants would be awarded as follows to Group A winners: first place, $3,000; second, $2,000; third, $1,000; and fourth, two awards of $500 each.
The Group B winning grants would be the same, except that four grants of $500 each would be awarded for fourth place.
As of Aug. 31, the district had 45 clubs with 30 or more members, and 119 with fewer than 30, which is why more grants will be awarded in Group B. Grant winners would be determined as those clubs with the greatest percentage increase in membership, according to the official KI Membership Report as of April 1, 2021. In case of ties the money for a certain place will be split evenly.
These grants could be used only for service projects, community improvement projects and new educational scholarships, not for general and administrative purposes. Dues for members added during the contest period must be paid before a grant check will be written, and an accounting will be required in writing within 60 days of receipt of a grant.
Mo-Ark Governor Carla O'Brien of High Ridge, Mo., said: "We have a strategic plan for membership for the year: to grow our Hands For Service by at least 500 members, please do your utmost to be a partner in achieving that goal to rebuild and reenergize all of our clubs!"
For questions, contact District Secretary Mary Vaughan at kiwanismoark@outlook.com or 314-581-0497.
---
Kiwanis is a global organization of volunteers dedicated to changing the world one child and one community at a time.
Kiwanians participate in projects and fund raisers that provide assistance to local charities, hospitals, schools, shelters, other community organizations, and individuals.
What is Kiwanis?
Here is a quick video that explains what Kiwanis is.
Find a Kiwanis Club
Are you interested in joining an international organization of member-volunteers who annually give more than 12 million hours and more than US$107 million to help change the world for the better? Our members' hands and hearts help those who cannot always help themselves. Click Here to Find a Club
Time for a Hixson?
Be a part of the Hixson tradition. As Kiwanis International's first president, George F. Hixson paved the way for the leaders who would follow. In 1983, the Kiwanis International Foundation honored his inaugural presidency—and more than 50 years of Kiwanis service—by establishing the George F. Hixson Fellowship. As a way of recognizing people who have contributed significantly to Kiwanis' history of generosity, the George F. Hixson Fellowship is bestowed upon donors who give $1,000 or more to our foundation. With your one-time gift or two-year pledge, you support the Kiwanis Children's Fund—helping fund grants to Kiwanis Service Leadership Programs as well as Kiwanis clubs, districts and district foundations.
Become a George F. Hixson Fellow by making a gift today. Or give in honor of another—recognizing someone's special commitment with a Hixson Fellowship in their name. If you plan to proudly wear your Hixson Fellowship recognition during a Kiwanis convention or event, please make your gift and request recognition six weeks in advance. This will ensure time for processing and shipping. And remember:
If all of your club members are Hixson Fellows, you can apply to be a George F. Hixson Fellow Club!
For more information, click here.
Zimmermann and Les Mace Awards
Many clubs honor outstanding members with these awards. MO-ARKs Earl Collins Foundation awards the Zimmermann and Les Mace Awards. For details see the Earl Collins page.
————–
User Notes
Shorthand: You can reach this site at www.moarkkiwanis.org or by searching on Google or Bing.
Welcome to the new MO-ARK Website. This a bit of an overview. The information is all the same but the presentation is different with a broad screen device like a laptop or desk top and a narrow screen device like a smartphone. My comments compare my desktop experience with my Amazon Fire 7.
Both have links at the very top to the MO-ARK Facebook page and KI's Instagram page.
Broad screen has the main menu horizontally across the top of the screen. We have nine main topics with additional pages listed alphabetically below them. A powerful search box that lets you search the text on all 90 pages.
The main screen is in two columns with text on the left and the top postings on the MO-ARK Facebook page on the right. Below that is an alphabetical list of all 90 pages by title.
Narrow Screen has the Facebook and Instragram links at the top. Click the small white button on the upper right to see the menu. It presents the text as a single column followed by the search box, Facebook posts and then the alphabetical list at the bottom.
We have retained the News column as one of the pages at the top.
I think you will find them both informative but note the broad screen has a bit more umph.
It's been fun and challenging putting the website together. If you spot any errors or dead links, etc, please pass them along. Suggestions for improvements are welcome.
Paul Eckler
MO-ARK Webmaster
paul.eckler@att.net
636-273-5398