Camp Wyman
Kiwanis and Kiwanis Camp Wyman


St. Louis area Kiwanians speak fondly of their experiences at Camp Wyman, which is located at 600 Kiwanis Drive, near Eureka, MO.

Founded as the Children's Industrial Farm in 1897, the original concept was to be an orphanage for the homeless children of St. Louis aged 4 to 12. "Industrial Farm" refers to the Boy's Town style institution where children learn agricultural skills and raise some of their own food. Incorporated as The Children's Industrial Farm Benevolent Association of St Louis, the enterprise was modeled on the "Fresh Air" movements in New York, Michigan, New Jersey, and other states.

The farm was funded by subscriptions from 500 St. Louis families. The advisory board included well known names such as Adolphus Busch, William J. Lemp, and R.M. Scruggs. As was typical of the fresh air movement, many early benefactors were leaders in the region's wholesale food and beverage industry (thus the ties to agriculture). Albert Russell Verdier was the man behind the idea. In the news, he is listed as secretary. A committee was formed to find a location for the farm.

Frank Wyman served as president of the Children's Industrial Farm from 1899 until his death on April 24, 1924. He and his wife are buried in Bellfontaine Cemetery in St. Louis. (His obituary and photo are posted on Findagrave.) Known for his fund-raising, Wyman was a prominent businessman who was appointed Postmaster of the St. Louis Post Office during the administration of Theodore Roosevelt. He served from 1903 to 1909, including through the St. Louis World's Fair.



Kiwanis Camp Wyman Main Gate Dedication
Camp Wyman was first located near Sullivan, MO, but in 1900 was moved to a rented farm near Eureka. The farm was purchased by the organization in 1910. A full page article in the 1902 Post-Dispatch shows photos of early buildings. Early on, the "farm" transitioned to providing summer "outings" for children. For 10 weeks each summer, groups of 100 children were brought to the camp, usually by rail, for two-week visits. Included were boys and girls from ages 6 through 12 from low-income areas, sent on referral by churches and social welfare organizations. The "farm" raised most of its vegetables; milk cows were rented from local farmers.


Lodging for children and staff was in canvas tents until 1910. Then sixteen cabins were built with scrap lumber from the 1904 World's Fair (thanks to Frank Wyman's connections). These lasted until the late 20's when they were replaced by larger, better ventilated dorms. Built of pine clapboard and painted white they stood all in a row on the camp's north hill.

The organization's name has evolved over time. It became The Frank Wyman Outing Farm for Children in 1921, Camp Wyman in 1938, and Kiwanis Camp Wyman in 1979. The final name change to Wyman Center in 1999 coincided with the expansion of the organization's mission to include both the camp and community programming. Concurrently, a board resolution was approved to honor the historic relationship with Kiwanis, naming the campsite near Eureka as Kiwanis Camp Wyman until 2003.

It is not clear how the original subscription funding worked, but by 1922, Frank Wyman's Outing Farm was one of the charities funded by the St. Louis Community Fund. The funding organization later became the St. Louis War Chest Fund, the Community Chest, then the United Fund, and currently, the United Way. A fire destroyed three buildings at the camp in 1939. The loss was estimated at $20,000.


In 1947, George W. Kirk of Sikeston Kiwanis was Governor. That year, Marq Braun, Chairman of the National Vinegar Co. and a member of the Southside Kiwanis Club, along with Harold Duffy, Executive Vice President to the S.G. Adams Printing and Stationary Co., and member of the Downtown Kiwanis Club (also chair of the local Kiwanis Interclub Relations Council), led the effort to enroll the Kiwanis Clubs of the St. Louis Region as sponsors of Camp Wyman. Some 1,200 Kiwanians agreed to pay $1/yr to the camp association. The MO-ARK History indicated that between 30 and 40 clubs in Greater St Louis (Divisions 6, 7, 8, 9 and 10) sponsored Kiwanis Camp Wyman.
Many recall work days to maintain cabins used by the children. Each cabin sported the name of a Kiwanis club that agreed to sponsor and maintain it. Dave Hilliard recalls that clubs from Arnold, Brentwood, Chesterfield, Clayton, Collinsville, IL, Creve Coeur, Crestwood Sunset Hills, Ferguson, Festus-Crystal City, Flo-Valley, Glen Carbon, IL, Harvester, Jennings, Maryland Heights, Normandy, Northwest, Ritenour, St Peters, South County, Southside, Tower Grove, Troy, West End, and West St Charles County had cabins or sponsored camperships.
When Adj and Eddie Dillon were executive directors (from 1942 to 1975), it was not rare to see 300-400 Kiwanians and their families spread across the camp, paint brushes in hand on work day. As club members aged, participation diminished to a few dozen members who still faithfully come out each year. Annual work days were and remain a ritual.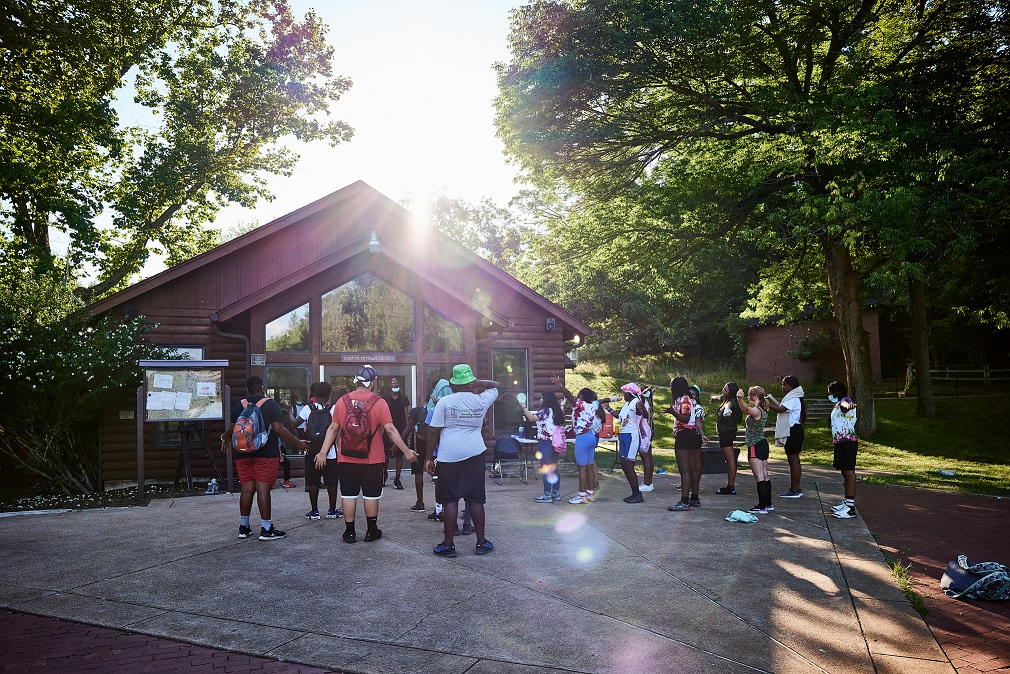 In this era, Kiwanis clubs participated in numerous fundraisers for Camp Wyman. In 1959, a swimming pool was built with $35,000 from Downtown Kiwanis earned by selling fruitcakes. There was always a swimming pool. The first, made of tin caulked with tar was kept filled by a spring running in and out of it. This was replaced in the late 30's, by a concrete pool that also straddled a creek. Neither early pool had chlorination or filter systems; they were man-made swimming holes. Emerging public health requirements necessitated the "modern" pool that opened in 1959 with the assistance of Downtown Kiwanis club.
Over the period from 1972 to 2000 all the old cabins were torn down replaced with modern facilities designed for year round use. Many of these were also funded by Kiwanis Clubs.

A lake was built in the 1980's with funds raised by Bridgeton Kiwanis during the heady days of bingo fundraisers. (Bingo could earn a Kiwanis club $60,000 per year.) In 1986, the Inter-Club Council donated $30,000 for septic improvements at Camp Wyman. In 1990, West St. Louis County Kiwanis donated $25,000 to Camp Wyman. Between 2011 and 2020, Chesterfield Kiwanis has donated $55,000. The list of club donations is long–


Dick Bacon (l) and Fred Wiesehan (r) of West St. Louis County Kiwanis Club present a check to Dave Hilliard (center), CEO of Camp Wyman
1. Bridgeton: Shop, Lake, Small Dining Room, Health Lodge, Education Room, swingsets and multiple, passenger vans
2. Hampton/Midtown/Tower Grove: Council Ring, Main Dining Hall and Great Hall
3. Kirkwood: Chapel
4. West County and founding Kiwanian of same, Joe Linneman and his wife Georgana: four North Ridge Cabins
5. Spanish Lake: Laundry
6. O'Fallon and Kiwanian Frank Forst: Staff Apartments
7. Southside: Cabin and Recreation Hall
8. Gravois: Lower Pavilion and Library, later converted to Accessible Dorm 1
9. University City/Clayton: Cabin and Nature Lodge, later converted to Accessible Dorm 2
10. Downtown: Pool
11. Maplewood: Health Lodge
12. St Charles: Director's Lodge
13. St Clair, Union, Washington: Morning Star Village (primitive adventure campsite)
14. Midtown: High Adventure Course
15. Ray and Ginny Scholin (Hampton Club): Aquatic Study Pond and Entry
Monument
16. Frank Bick (Southside): Purchase of adjacent land, Office
17. Bill & Debbi Voss (Chesterfield): Headquarters Building
18. Isaac and Marilyn Young (Maplewood): Nature Lodge, purchase of adjacent land and vegetable gardens

Wyman held outdoor education camps beginning in 1948 for public schools from St. Louis and Webster Groves as well as Lutheran parochial schools. The year 2023 marks 75 consecutive years the Webster Groves district has been served at Kiwanis Camp Wyman.
In 1953, Ed Kurmann of South (St. Louis) County Kiwanis went to camp for a week during Spring of the school year at Camp Wyman with his sixth grade class at Mallinckrodt School in St. Louis.

Judy Burnette also of the South County club worked at Camp Wyman as a counselor. In 1958 and 59, she volunteered while a student at Harris Teacher College and later worked summers at Camp Wyman until 1973. During girls camp, she noticed visitors known as Sinawiks (Kiwanis spelled backwards), the Kiwanis Women's Auxiliary. An end-of-the-season barbeque given by Kiwanis Club members was a tradition. It was a festive occasion enjoyed by all.

By the late 1980's, Wyman's data made it clear that a deeper engagement with young people was required to create true and lasting changes in their lives. Concurrently, local data showed that teenagers were most at risk and underserved. National research also reinforced Wyman's belief that longer term engagement was needed to realize sustained improvement in the lives of young people.

Wyman pivoted to focus only on serving teens. The organization designed a multi-year, year-round program that integrated camp and community-based elements to cultivate leadership, service, positive peer relationships and civic engagement while fostering educational success and positive youth development.

In 1998, Wyman celebrated its 100th Anniversary. An article in the Post-Dispatch recognized Kiwanis efforts for its Kiwanis Camp Wyman. The camp and Wyman Center were headed by Dave Hilliard, who began as a camp counselor in 1965. He became President and CEO in 1975 and retired in 2016. Claire Wyneken, Wyman's new President and CEO, began working at Wyman in 1987 and has been an instrumental leader in Wyman's evolution.
Wyman Today

Today, Wyman partners with young people by providing experiences, opportunities, and resources to support and challenge them as they grow and learn. Through Wyman's three proven programs, they are part of the lives of more than 3,000 St. Louis area youth and nearly 30,000 nationally every year.

Wyman Leaders supports young people in St. Louis to develop life and leadership skills, enter and complete college and career education programs, and create strong community connections. Youth participate in immersive camp experiences, enrichment activities, postsecondary education tours, and individualized coaching. Teens enter Wyman Leaders the summer before ninth grade, at a pivotal time in their education and lives. They finish the program as adults, four years after high school graduation. Wyman's trained youth leadership professionals support more than 400 students each year through this recognized, nine-year program.
The Teen Outreach Program® (TOP®) is a nationally recognized program empowering teens with the tools and opportunities to develop social-emotional skills, build community connections, strengthen relationships, avoid risky behaviors, and build a powerful vision for their future. The 9-month program serves young people from 6th-12th grade, and TOP youth are prepared to navigate challenges during their teenage years – when decisions matter. Every year, Wyman directly serves more than 650 teens in the St. Louis area and TOP is part of the lives of nearly 30,000 teens nationwide.
The Teen Connection Project® (TCP®) is a highly engaging, evidence-based social-emotional learning program for high school students focused on social-emotional skills, peer connections, and building healthy relationships. Through this 12-14 week program, teens participate in group lessons on topics that include communication, trust, and recognizing strengths. They learn to interact, share, and improve connections with others. Annually, more than 500 young people in the St. Louis area and across the country participate in TCP.

Wyman has been accredited by the Council on Accreditation since 2011; is a Better Business Bureau accredited charity and a partner of the United Way of Greater St. Louis; and was recognized as a 2022 Top Workplaces Honoree by the St. Louis Post Dispatch. Additionally, Wyman's TOP and TCP are included on several national, evidence-based and best practice listings.
COVID-19: The Impact on Wyman
In the spring of 2020, our nation was faced with a global pandemic that changed life for all of us. At Wyman, we altered our program delivery and work environment to continue offering crucial supports to our young people. Our priorities focused on reaching all our youth and maintaining consistent relationships, connections and support; attending to the emergency needs of our young people; and listening, learning, and adjusting our work.
When schools closed and social distancing orders went into effect, both Wyman Leaders and TOP transitioned to virtual engagement. Wyman Leaders participated in academic enrichment lessons, virtual college tours, online college prep workshops, weekly meetings focused on building peer relationships, and virtual one-on-one meetings with Wyman staff to receive social-emotional support and coaching. Camp during the summer of 2020 was unable to happen, but Wyman was happy to welcome Wyman teens back to camp during the summers of 2021 and 2022.
Our TOP staff worked alongside our school partners to adjust programming in a way that aligned with the online learning methods implemented by each school district. They delivered content through a variety of online strategies, kept youth engaged and connected; and provided additional support and resources for families as needed.
Additionally, Wyman's annual Gala turned into a virtual event for both 2020 and 2021. In 2022, we celebrated a return to in-person events by hosting our annual Gala at Camp Wyman.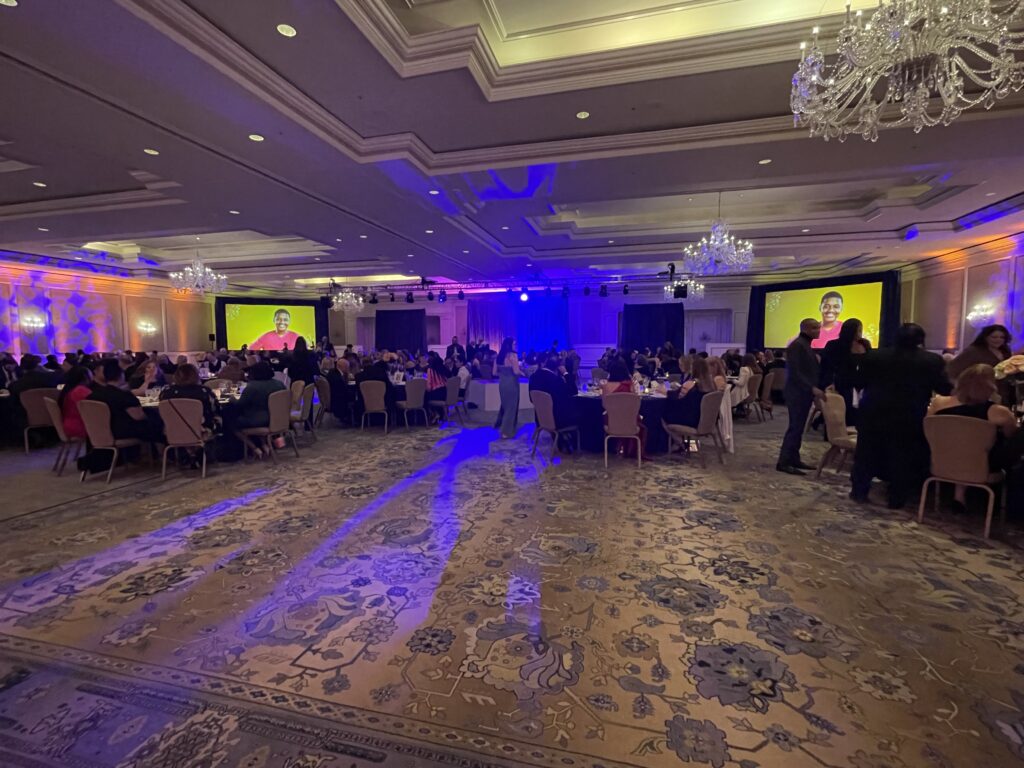 Wyman Gala 2023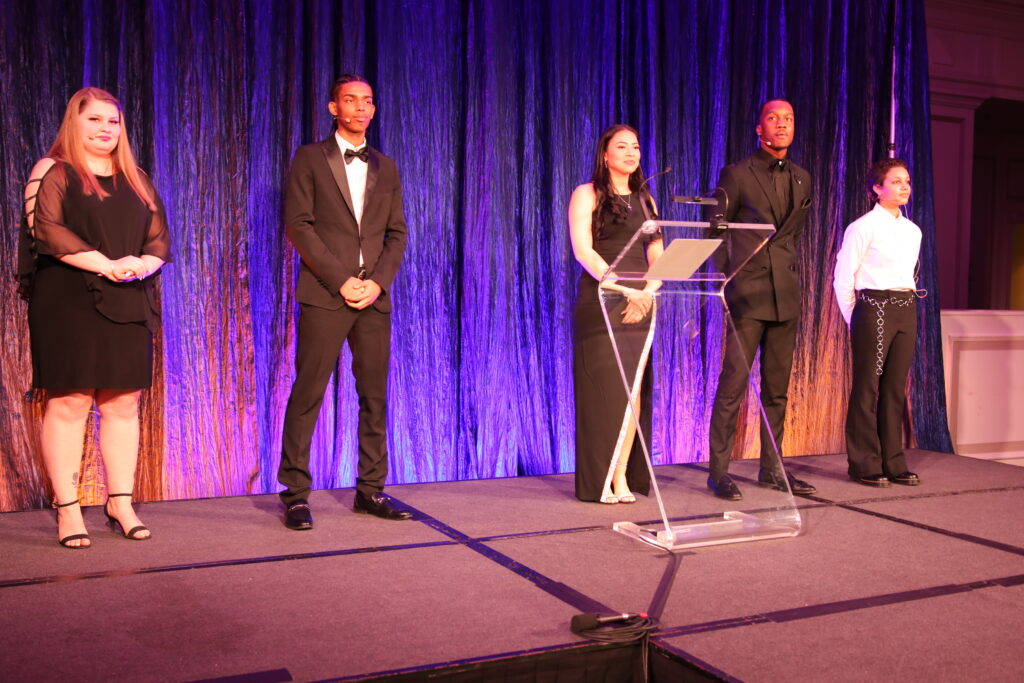 Wyman's Youth Leadership Council (YLC) were the keynote speakers at the 2023 Wyman Gala. YLC is a group of Wyman teens and alumni who work in partnership with Wyman staff to ensure that young people are actively and meaningfully engaged with Wyman and the systems, issues, and policies that have the potential to impact their lives.
Kiwanis and Wyman's Partnership Today

Kiwanis clubs in the area continue to support Camp Wyman through financial support and by volunteering at the camp.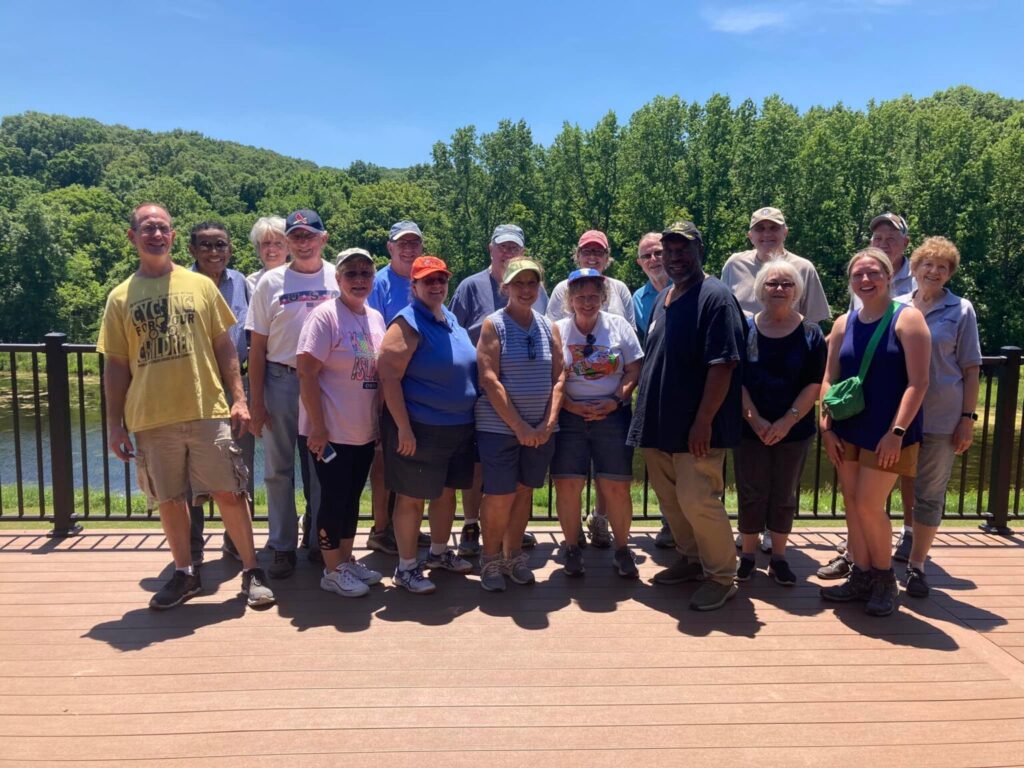 Kiwanis Work Day at Camp Wyman: What a great day yesterday (Saturday, June 18, 2022) for our Kiwanis Camp Wyman cleanup day! Beautiful weather and a great group from South Stl County, Crestwood Sunset Hulls, Meramec Valley Community, St. Charles and Bridgeton! Great day!! Thank you for helping out!! Jim Grant and Roger Jespersen made up the Meramec Valley crew.
Kiwanians often request donations to Camp Wyman in their obituaries and Wyman's endowed funds include several estate gifts from Kiwanians and their families.
Local clubs that have established memorial funds for members include:

Creve Coeur Kiwanis
Chesterfield Kiwanis
Crestwood-Sunset Hills
Kirkwood Kiwanis
Maryland Heights Kiwanis
South Side Kiwanis
Webster Groves Kiwanis

Named Memorial Funds include:

Martin Bailey – Midtown, Hampton/Midtown
Al Bryant – South Side
W. Donald Dubail – West End/Clayton/University City
Larry Embrey – Creve Coeur
Elmer & Beulah Kolkmeier – St Charles
L.W. Matheny – Hampton
Red Reininga – South Side
Erv Roesel – South Side
Bob Springmeier – Florissant Valley
John Warren – St Charles
Charlie Zeigler – South Side

General or Special Endowments:

James Scholin (Ray and Ginny Scholin)
Julie Ramsey (Jim Ramsey)
Paul and Vicki Jungerman
Jack and Pat Wichmann

Sources and Notes:
Information here comes from Wyman staff and archives, interviews of Kiwanis members, and newspaper files available online. The latter includes the St. Louis Post-Dispatch (St. Louis County Library) and the Pacific (MO) Transcript (State Historical Society in Columbia, MO).

Camp Wyman Website (WymanCenter.org) and staff, Ancestry.com, Findagrave.

Interviews and email exchanges with: Dave Hilliard; Elmer Austermann, St.
Charles Kiwanis; Judy Burnette, South County Kiwanis; Jeff Johnson, Maplewood Kiwanis; Ed Kurmann, South County Kiwanis; and Barb Thompson, Florissant Valley Kiwanis.

Post-Dispatch articles
June 5, 1897
June 27, 1899
August 3, 1902, p 19B
August 15, 1918
May 27, 1923, p 81
August 9, 1942, p 17c
October 23, 1945, p3
May 23, 1947, p24
November 18, 1998
March 5, 2005
St. Louis Star Times
July 3, 1939, p 1.

Pacific Transcript articles
July 29, 1904
September 9, 1904
July 14, 1911
June 10, 1921

Macon Chronicle-Herald, July 3, 1939

Prepared by Paul Eckler, Kiwanis Club of Meramec Valley Community, Aug 23, 2017; Updated April 2023 by Paul Eckler and Wyman staff