Key Leader — Returns for 2022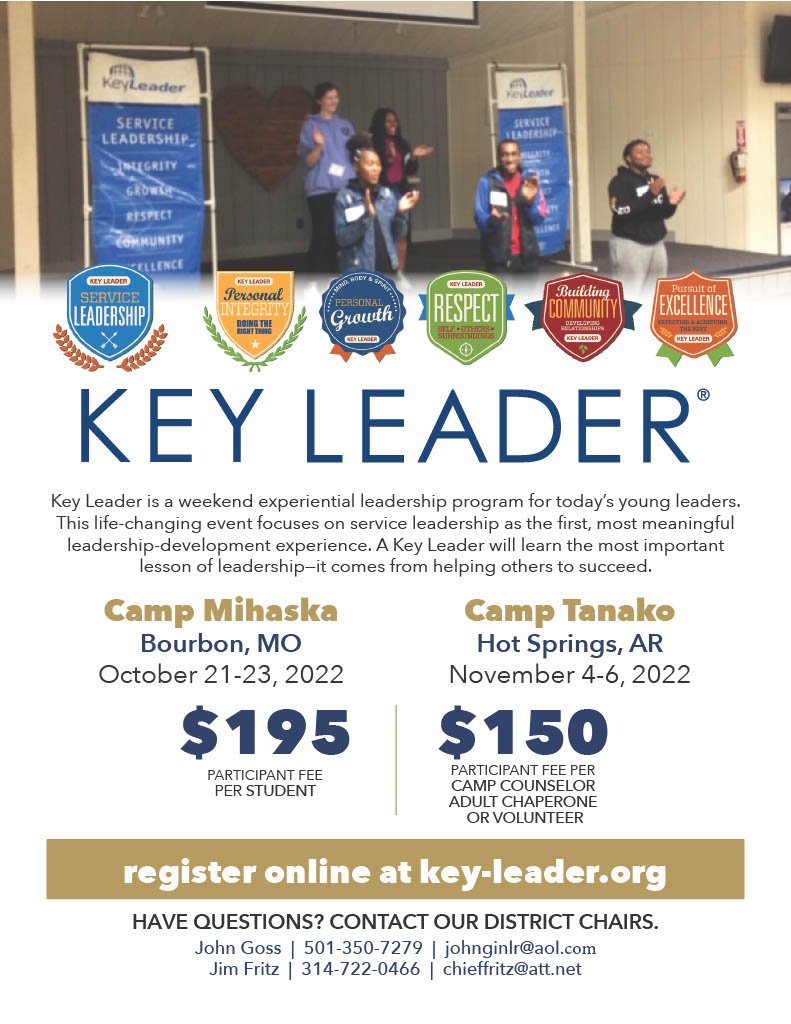 We have finally gotten dates set for Key Leader this fall. The first one will be at Camp Mihaska in Bourbon, MO, on October 21-23, 2022 and the second one at Camp Tanako will be November 4-6, 2022. The fees for the camps have been reduced to $195 for student participants and $150 for student facilitators (camp counselors). The $150 fee would also apply to adults chaperones and volunteers. The fees were lowered from $225 for student participants and $175 for student facilitators in past years. This lowering of fees was possible due to the $10,000 grant from the Earl Collins Foundation. We wanted the lower fees to get the students back in to the camps after a two-year hiatus.

I have informed KI about the camps, but it may take a few weeks to get Lead Facilitators assigned and up on the www.key-leader.org website, but I wanted you all to know so that we can get the word out to Key Clubs, high schools and Kiwanis Clubs. Dick Peterson, the Key Leader Director/Administrator who has been with the program since its beginning in 2005, is leaving Kiwanis for a camping job in North Carolina. We hope the next Program Director is as skilled and competent as Dick has been.

Let me know about any ideas you have about getting students back to Key Leader!
John Goss, District Chair – Key Leader
Missouri-Arkansas Kiwanis District
501-350-7279
email: Johnginlr@aol.com or Gossappraisals@yahoo.com.