Governor's Column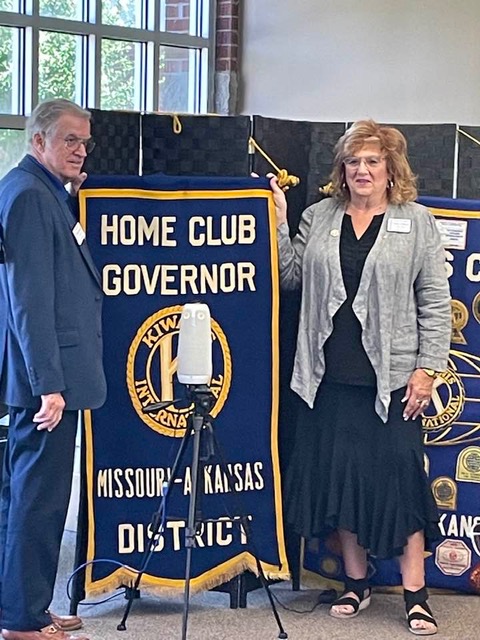 By Roy Ockert March, 2023
Why can't Kiwanians recruit?
That's a question many of us have been asking ourselves for several years now, and it's not unique to our organization. Declining membership numbers are worrying leaders of all the traditional civic and service clubs.
People don't seem to be joining civic clubs like they did in years past, and we don't understand why. After all, Kiwanis clubs do great work in their communities, and the association of people with a common interest in service is good for our souls.
But here we are losing members, and we can't replace them fast enough. Our international organization wants each district to start new clubs, and we do. But we're losing clubs faster than we can start new ones.
On Oct. 1, 2016, the Missouri-Arkansas District had a total of 4,800 members. On Oct. 1, 2022, we had 3,798. Since then we've gained a net of 28 members. Typically, we add several hundred members during the Kiwanis fiscal year, and then we lose even more at the end — because international and district dues have to be paid in November.
This has been going on for about 20 years for most organizations, and the pandemic added greatly to the membership stress. Clubs couldn't meet, couldn't do service projects, couldn't raise funds. Many lost their purpose and shut down.
But we can't blame it all on the pandemic.
My own club — Greater Jonesboro — had 83 members when I transferred here from Russellville in 2002. Today we have 44, which is actually an increase from our low point, 36, four years ago. At least 20 of those 83 have passed away. Only 15 are still members.
What happened?
We didn't recruit very well. From the time our club was chartered in 1935, we didn't have to recruit. Business men (and later women) wanted to join. But somewhere along the line, when we added members, we didn't give them enough reasons to stay in the club. We had (and still have) one great fund-raiser a year, which beefed up our scholarship fund. Otherwise, we didn't do much except meet weekly for a program.
Finally, we realized that our club would be gone in a few years if we didn't do something. We started thinking about recruiting. Unfortunately, only a few members have ever gone beyond the thinking stage.
Kiwanis International has promoted various membership recruiting efforts. The current one, called Two for Two, is probably the best so far. While finishing up my third term as president, I organized a campaign in my club. But it never really got off the ground, in part because as governor-elect I was busy with district business.
Meanwhile, over the past two years the Jonesboro Exchange Club, which meets in the same restaurant on Fridays, has gone from 20-something members to 80-something. So don't tell me nobody wants to join civic clubs. Don't tell me nobody wants to go to a weekly luncheon meeting because that club is running out of chairs.
The secret? They started asking people to join. A lot of the new members came from a disbanded Jaycees organization. But they asked; we didn't.
Being involved as a district leader, though, has allowed me to work with some Kiwanians who really can recruit — our district's own Barb Thompson, past Governor Carla O'Brien, Area Director Brad Boyd and KI club opening specialists Kendra Morris and Jay Hubbard.
The most important thing I've learned from them is that Kiwanis is still an organization attractive enough to grow. The hard part — and the part most of us never get beyond — is identifying and contacting prospective members.
Its gets harder to recruit after one retires from the working world. You no longer have the regular contacts; you may not get out in the community as much; and you tend to spend time with the same people.
But, prospective members are still out there, and I've seen how quickly we can start a new club by identifying them and asking them to join. Oddly, many clubs — even some that have fallen below 10 members — decline to let the district help them with a membership "boost." Sadly, the failure to recognize the importance of growth is the sign of a dying club.
Do you see similarities between your club and mine? If so, you can make a difference in turning things around — one new member at a time.
I can be reached by email at [email protected].
---
By Roy Ockert February, 2023
Ice and snow — imagine that in January — have kept me home more than planned the past month. But that also gave me more time to help plan future events that hopefully will bring better weather.
I had five speaking appearances on the calendar for last week, but I wound up making only two — the first and the last. The first was before a Jonesboro Rotary Club, whose program chairman had asked me to talk about the state of the newspaper industry. The last was an occasion with a happier future — breaking ground for a headquarters cabin at the Beatrice Johnson Kiwanis Youth Kamp near Russellville.
In between I had been scheduled to visit the Springdale, Huntsville and Gravette Kiwanis clubs, but heavy snowfall in Northwest Arkansas caused that trip to be postponed. I do hope to try again soon, with the help of Trustee Jerry Martin.
That was my first trip to the Youth Kamp, and I was quite impressed with the work done so far. With snow still on the ground and wind whipping through the pavilion, the ceremony went on, rather briskly, and we turned a few shovels-full of dirt. That won't help much, but it's a start.
As I pointed out to the 25 or so people present, Russellville was where I joined Kiwanis about 25 years ago. And one of my inspirations in that club was the late Tom Sullivan, a former governor who is memorialized with a flagpole at the camp.
The headquarters cabin is badly needed, and the foundation board has a good start on raising funds for it, especially because of major grants from the Earl Collins Foundation. Unfortunately, the cost has doubled from when the project was planned in 2019 — to just over $200,000.
As you may know, Beatrice Johnson bequested 160 acres to our district when she died in 2008, provided that we build a camp for children. Since then the foundation board has been developing the facility while raising funds to pay for it. Much volunteer labor has also gone into the development.
Beatrice Johnson had a vision that this quiet place near Piney Bay could become a wonderful camp for kids to enjoy and learn about the outdoors. So do many Kiwanians who have been working on the camp for more than a decade.
Then-Governor Don Leupold gave the camp a big boost when he made it his signature project in 2015-16. And my predecessor, Carla O'Brien, did the same last year.
I figured that if two St. Louis area governors could do so much for an Arkansas camp, I could do at least that much as an Arkansas governor. So I've continued the camp as the district project and suggest that clubs all over Arkansas and Missouri contribute whatever you can to help.
That contribution could be in the form of a check, or your club might be able to put together a work day at the camp. You could present a check to me when I visit a club, divisional or regional meeting. Or it could be done at the Educational Leadership Conference March 10-11 in Springfield or the District Convention Aug. 11-13. With any of those means we can get a picture and some credit for your club's contribution.
You can always mail a check directly to Beatrice Johnson Kiwanis Youth Kamp, P.O. Box 1998, Russellville, Ark. 72811-1998.
Since I've mentioned the Educational Leadership Conference, I should tell you that final plans are in the works for a great weekend. After three years of splitting our midyear conference into regional sessions, we are going back to a single meeting.
The conference at the Holiday Inn & Suites in Springfield will be preceded by board meetings of the Earl Collins Foundation and the Mo-Ark District.
We'll get the ELC started with what should be a fun evening Friday. It will take place at the Pythian Castle, a historic and ornate mansion built in 1913 as an orphanage by the Knights of Pythias. Later it was owned by the U.S. military and used to house German and Italian prisoners during World War II. We'll have dinner and engage in a Clue Adventure Game, and we might just spot a ghost in the process.
On Saturday we are planning a wide-ranging series of panel and group discussions designed to help us learn more about becoming better leaders for our clubs and communities. Our featured speaker for Saturday's luncheon will be Kiwanis International Trustee Dan Leikvold of Lead, S.D.
The conference will wrap up about 4 p.m. Saturday.
I can be reached by email at [email protected].
By Roy Ockert January, 2023
One thing I've learned in my first three months as governor of the Mo-Ark District is that you get to see a lot of these two states.
Before taking this office, I've heard some old-timers lament that the governor no longer visits all 26 divisions, but rather aims for trips into the nine regions. I know my predecessor, Carla O'Brien, did a lot of traveling, and I'm off to a fast start — albeit the winter weather could slow things down at any time.
Although I'm a lifetime resident of Arkansas, I've already visited two cities where I'd never been — about as far away from each other as you can get. My trip to Siloam Springs on the northwestern border came in September, after I had been installed but before officially taking office. There I found a large and very enthusiastic club.
In early December First Lady Pat and I journeyed to Helena-West Helena on the southeast border by the Mighty Mississippi. There we joined in honoring a 50-year Kiwanian, Adrian Messina. We had an opportunity to sit at the dinner table with Adrian and several others who kept us entertained. We also stayed at the beautiful Edwardian Inn, owned by a club member, Robert Cheek, and his wife.
Counting September, I've been to two clubs in Division 21 (Beebe and Conway), Siloam Springs in 19, Bryant in 15, West Little Rock in 25, and Helena-West Helena in 22.
This month I'll attend the charter ceremony for the Northwest Jefferson County club in Division 7 before heading to Las Vegas for a Governors Conference. Then it will be back to Northwest Arkansas for visits with the Springdale and Huntsville clubs in Division 24 and Gravette in 19. On the way back home we'll stop for the headquarters cabin ground-breaking at the Beatrice Johnson Kiwanis Youth Camp near Russellville, my original club, which is in Division 20.
That would make nine of the 26 divisions, with plenty of time left in the year.
Some of my trips may not qualify as official governor's visits, such as one to Little Rock for a meeting the president of our new West Little Rock club had scheduled with the mayor, but they help me get to know the district better.
Two things I'd like to ask you to remember for governor's visits. First, I decided to continue the Mo-Ark project that Carla had started — raising money for the Kiwanis Youth Kamp. So if your club wants to make a contribution to the camp foundation, that's a good time to present a check. We can make a picture for the Kiwanigram and, more importantly, help make that a great asset for the children of our district.
Secondly, First Lady Pat announced last month that her project will be to collect children's books for the Arkansas Children's Hospital. The ACH maintains a library of books for the children who are patients there, and they accept donations of books. The age range is infant through the teen years. All books must be new, and they ask that they not be religious.
There are various ways your club can collect books, including Kiwanis International's partner, Scholastic (https://www.kiwanis.org/about/partners/scholastic/scholastic-literacy-partners-book-ordering). If your community is fortunate enough to have a local book store, by all means shop there.
Those are two great projects that fit into our Kiwanis mission of serving the children of the world. At the same time we can have a good time and boost Kiwanis so let's schedule a trip to your division.
I can be reached by email at [email protected].
By Roy Ockert December, 2022
Red ink isn't good for district — even at Christmas-time
Having been chairman of the district's Finance Committee for the past six years, I know how people's eyes glaze over when you start talking about budgets, account balances and financial statements. However, we need to talk about finances, even if it is nearly Christmas.
At our Nov. 4 Board of Trustees meeting we approved a budget for the new year that began Oct. 1, projecting a deficit of $29,673. That's on the heels of two years in which the final financial statements showed bottom-line deficits of $38,130 and $26,565, respectively.
The two most recent were planned to an extent because the board had decided to dip into our reserve funds to pay for membership contest grants — $22,000 two years ago and $15,000 last year. So the red ink wasn't as bad as it sounds.
We were pleased with the results of the membership contests, especially considering that clubs were coming out of a pandemic that shut many down and affected the activities of all. My own Jonesboro club lost all revenue from Pancake Day for the first time in more than 80 years.
In short, we needed to encourage all our clubs to get back into recruiting, and many of them did. But it was expensive, and the district still lost members both years.
Therein lies the problem Mo-Ark has been dealing with, and most other districts — other service and civic clubs, in fact — are facing the same thing.
In 2015-16 our district started the year with 5,200 members and anticipated dues revenue of $104,000. Our revenue comes almost exclusively from the $20 dues per year for each member. Until last year we also received $20 when a new member signed up after Oct. 1. That new member fee has been eliminated, and now we get a pro-rated share of the $20 first-year dues, depending on when the application is accepted.
This year our beginning membership district-wide is 3,798. We project dues revenue to total $80,960, including the late member additions that are pro-rated.


We have cut all travel budget lines, and many district, region and division officers were already paying a significant portion of their expenses.
The district has two paid part-time officers — secretary and treasurer — each of whom operates out of a home office as an independent contractor. The total cost of stipends and office expense is $37,200, nearly half of our projected revenue, and that doesn't count related expenses such as office supplies, travel, bonds and communications.
The budget includes $5,000 in club building expenses and $2,000 for club strengthening. The most important thing we do in the district is to establish Kiwanis clubs wherever we can and help them thrive. The club building expense can be partially offset by up to $2,500 in Kiwanis International grants.
All this says it's time to consider an increase in district dues, and I have asked the Finance Committee, now chaired by Governor-elect Paul Sherman, to study that possibility. Because our dues are set in the district bylaws, an amendment would be necessary, and it can only be considered at a District Convention.
Research done by Brad Boyd, KI's Area 3 director, shows that Mo-Ark and Kentucky-Tennessee districts share the distinction of having the lowest district dues in North America. Some of our neighboring states have much higher rates: Louisiana-Mississippi-Western Tennessee, $46; Texas-Oklahoma, $40; and Illinois-Eastern Iowa, $36.
We don't need to go that high, but when you've cut expenses all you can, the only alternative is to increase revenue. Of course, a dramatic turnaround in membership numbers would do it, but we're on a downward trend.
Complicating anything we might want to do on the district level, is Kiwanis International's situation. With membership dropping in almost all divisions, KI is struggling to make ends meet with the $82 now charged annually to each member for dues, insurance, the magazine, etc. We've heard that delegates to next year's international convention will be asked to approve a dues increase, and we'd hate to piggyback on that.
Mo-Ark does have about $135,000 invested in mutual funds, which is now producing some revenue. Previously, our reserves were parked in money market accounts and certificates of deposit, which earned next to nothing. But $30,000 annual deficits could wipe that out in a hurry.
We account for our conventions separately from the operating budget, and we try to make sure they break even. That usually works — unless an event has to be canceled for some reason.
Maybe Santa will fill our wish list. Meanwhile, we're open to new revenue ideas. Everybody else is already doing silent auctions and raffles.
Merry Christmas and Happy New Year!
For the Budget see the Board Reports page or click here
---
By Roy Ockert Jr. November 2, 2022
Congratulations to our newest Mo-Ark club, Kiwanis Club of Northwest Jefferson County, which was officially organized on Oct. 25.
The new club will serve several communities along Highway 30 and southwest of St. Louis, including High Ridge, the hometown of our immediate past governor, Carla O'Brien. In fact, Carla's club, Kiwanis Club of Gravois, which is further up Highway 30, will be the sponsoring club.
Northwest Jefferson County will be a part of Division 8, which is fortunate to have Becky Panchot of Farmington as its lieutenant governor. That will put the division back at five clubs.
Getting this club open is a testament to the efforts of Carla and Mo-Ark's indispensable membership chair, Barbara Thompson of Florissant Valley. Actually both of them have been involved in so many clubs — as a member, coach, opener, sponsor, whatever — that I'm sure they couldn't count them all.
Carla is so dedicated to Kiwanis that for the recent charter ceremony of the Kiwanis Club of Greater Bryant, Ark., she lugged 52 pounds of food from St. Louis to Little Rock in her checked luggage. Actually, she had to move two pounds of cheese from one bag to another to avoid an overcharge.
The experience, expertise and dedication of these two great Kiwanians is why I've asked them to work together in heading our two most important committees — Barb again for Membership and Carla for a new Club Strengthening Committee.
In the past the tasks of opening new clubs and revitalizing or strengthening existing clubs have been pretty much the work of one or two individuals, or small groups of individuals, sometimes with the help of KI personnel.
Last year Carla led an effort to "boost" several clubs in the areas where we had educational conferences scheduled. We made some progress with those that were eager to collaborate with us, but not as much as we'd hoped. And we found that those efforts over four weeks exhausted our 2-person staff and officer corps. Further, it exhausted our budgets.
This year I hope to get more people involved in both club opening and strengthening, with Barb and Carla doing the coordination — but not all the work. I'm asking both of them to form small committees to work with them in planning and coordination. After all, we should be getting some experience for the next Barb, the next Carla if Mo-Ark is to thrive in the future.
Barb and the Membership Committee will focus on club openings. My goal is a plus five for the year, and Barb says she figures we'll need to open at least eight to do that (because we'll lose some). We've got some strong possibilities on the drawing board, but we welcome suggestions.
Carla and the Club Strengthening Committee will aim to help any clubs that are struggling and willing to work with us to make things better. Adding new members is, of course, the obvious place where most clubs need help. But there are other ways the district can help, such as connecting a club with a coach who can help train officers.
Last year's club revitalization chair, Ralph McCormick of Russellville, suggested we form teams that could go into communities where a club needs help on a short-term basis. A concentrated membership drive, or boost, can be done in two or three days if we have local members willing to collaborate.

Such teams can operate most effectively and efficiently if they can be comprised of three or four Kiwanians from the same region the club is in. For example, if we do a boost in northwest Arkansas, it's much more expensive for us to send people from St. Louis or Jonesboro than to put together a team of people within driving distance of the club that needs help. The lieutenant governor certainly should be involved because he or she would already be familiar with the club, its leaders and the community they serve.
No committee can do everything that needs to be done, but we can work together for the good of Kiwanis.
One thing we've found is that some clubs, even with declining membership, don't want help. We can't do anything about that, and we don't want to force the issue. We just want to be sure everyone knows that help is available. All you have to do is ask.
There is no shame in asking. We've all been through some tough times since the spring of 2020, and some clubs are still struggling to get back to normal.
Last year we added four — really now five — clubs, but we lost seven.
As of Oct. 1 Mo-Ark had 39 clubs — more than one in every five — with fewer than 15 members. That's actually the magic number for starting a new club, and most of think the old standard of 20 is more realistic.
Seventeen of those 39 clubs have fewer than 10 members. That's a real danger line for most. It's hard to sustain an organization with fewer than 10 members.
Kiwanis is well worth sharing. Let's do everything we can to keep strong, vibrant, service-oriented clubs in every community of Missouri and Arkansas.
Roy Ockert can be reached at [email protected]
By Roy Ockert Jr. October 1, 2022
We've had a peaceful transition of power — to use that term loosely — in the Missouri-Arkansas District over the past week.
My year as governor officially began Saturday (Oct. 1) with the new Kiwanis fiscal year after 12 months as governor-elect and another month as governor-designate. But Governor Carla O'Brien passed along the "accoutrements" of office the previous Tuesday during a meeting of the Kiwanis Club of Conway.
That ceremony had been delayed because Carla was battling COVID and unable to attend the District Convention in person. But I went to Siloam Springs Tuesday to install club officers there, and my trip home to Jonesboro carried me very close to the Conway meeting, where Carla was to perform the officer installation as one in a series of her final duties as governor.
So we agreed that would be an excellent time to get together.. She managed to pack the governor's banner, magnetic car shields and the necklace plated with all the previous governors — it's getting heavy — into her suitcase for the flight from St. Louis to Little Rock. And the Conway club graciously gave us time for the ceremony.
Now I'll get the "Governor's Home Club" banner to my Jonesboro club and hopefully talk first lady Pat into riding in a vehicle with a sign announcing "Kiwanis Governor" attached to both sides.
For my tenure as governor, I've chosen the theme "One Community," which you'll see on the lapel pins that I'm handing out as I visit Kiwanis clubs around Arkansas and Missouri. The pin features two Jonesboro kids — a brother and sister — in a photo taken by their dad, thus reminding us that we serve the children of the world.
We serve mostly up close and personal in our own communities, as "one community at a time."
During the Kiwanis International convention in Indianapolis in June, KI's executive director, Stan Soderstrom, said in his annual report that almost everything good that happens in Kiwanis happens at the club level. That's certainly true, and I'm going to spend a lot of my time as governor stressing the importance of strengthening our local clubs so they can continue to serve their communities for many more years.
My Jonesboro club does important things in our community and has since it was chartered in 1935. Each of you could say the same thing about your club. That's why it pains us whenever a Kiwanis club ceases to exist, as several have in Mo-Ark over the past couple of years. Fourteen others had fewer than 10 members, according to the Sept. 1 KI membership report.
The most important things we do are those that benefit the youth of our communities. Whether your club does hands-on service like offering swimming lessons, reading to elementary school kids, sponsoring a Christmas parade or just writing a check, you make a difference in your "one community."
Children's programs, including those sponsored or supported by Kiwanians, can be life changing.
I'm sure many of you can testify, like me, that one or more programs for youth in your hometown helped shape your own life. The value of local programs for kids can't be understated, especially those that benefit children who lack strong support systems or resources at home.
Kiwanis clubs support those vital programs, which is why we need more clubs and stronger clubs — meaning more members, more service projects.
While at the district level we are committed to opening new Kiwanis clubs, especially in communities that don't one, we're also going to do everything we can to help clubs that are struggling. The pandemic has been hard on all organizations, especially those like ours that thrive on face-to-face meetings and hands-on service.
Carla has agreed to head a new Club Strengthening Committee, which identify and work with the clubs that need help and are willing to accept it. One thing we learned during the past year is that revitalizing our clubs after two difficult years requires more than just the district staff and officers. So we will call upon lieutenant governors to help us form a boost team in the area of a struggling club. The division LTG and other Kiwanians from the area are more likely to be accepted by the struggling club, and it's much more economical.
Another thing we will do is encourage you to start doing interclubs again. Having a group from a nearby club can be a big morale boost for a small club striving to bring its own members back for meetings. And the exchange of ideas that results can be useful as well.
As for club openings, the incomparable Barb Thompson has agreed to serve again as head of the Membership Committee, and we need to involve more people in that process. Having been involved, for the first time this past year, in not one but four club openings, I can tell you it's an exhilarating experience that every good Kiwanian ought to have. If there is anyone who can sell Kiwanis better than Barb, I'd like to meet (and enlist) that person.
Finally, I'd like to mention that I am continuing the same governor's project as Carla had — the Beatrice Johnson Kiwanis Youth Kamp — so I'll be raising money for that cause as I make my way around the district.
Meanwhile, let's all remember that strong local clubs — meaning those with a good core of leaders and a growing membership — are vital for their communities, especially for the children there. So please rededicate yourself and your clubs to serving the children of your one community because that's where Kiwanis lives.