---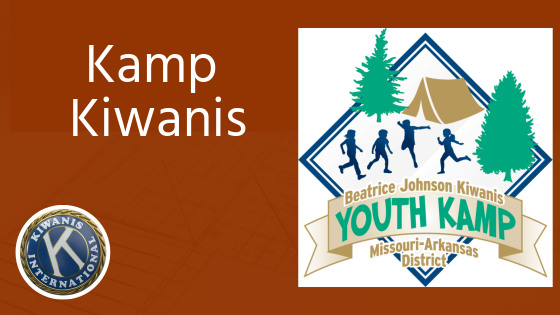 HEAD OUT ON A WANDER WITH A GRANDCHILD
Get some kids, grandkids, neighbor's kids and head out into nature. For at least part of the time, invite them to walk "ninja-style", moving slowly and quietly to see what they can see, hear and perhaps smell! Remind them that small animals will run away if they are too loud. See what kind of new experience you, and they, have while practicing this stealth mode. Then ask some leading questions: What does it feel like? What can you hear? What don't you hear? Is there an unusual smell? How many colors can you see from where you stand? Why is that tree shaped like that?
The answers are not all that important. It is all about the observations. If you have seven students in your group you may get eight or more observations! The goal is to use YOUR nature mentoring skills to stretch their senses and perhaps fuel a new curiosity. The mighty trees, plants and critters that come out of the woods at Mo-Ark's Beatrice Johnson Kiwanis Youth Kamp will provide the setting for your Nature hike. Or find an oak-hickory woods near your home, office or park.
Be sure to explain to your young nature lovers your own passion for discovering what you find intriguing. Make a list of the coolest things they see, take photos of each of them with a "discovery". Discuss what they had not noticed, point out unusual colors in leaves, shapes of bugs, sounds of birds, tracks of animals that came through the woods early that day. Most of all have fun out there!
Troy Massey, BJKYK Board member
---
Outdoor Adventure
I had the opportunity to host a group of high school students at our MO-ARK Beatrice Johnson Kiwanis Youth Kamp. Some of the students had been there before and some were newbies.

We started off with a hike to the top of the "mountain". There were moments along the way, like a spider web that barricaded our path. One of the girls, using a trick she learned from a previous visit, took a stick and gingerly made an opening for us to all duck through and continue on. Then they spied a spider in it's web, and were awed that the web had a pattern, they picked tiny flowers to adorn our hair, and curious of the aroma from a plant.

But, the most memorable moment (for me) was when we started the fire in the firepit to roast marshmallows. The fear this sparked in one of our foreign exchange students was remarkable. They had never seen fire, outside. This was much bigger than the candle flame in their home. As they watched their peers and garnered instruction from an adult, they ultimately decided to approach the fire and roast their very first marshmallow. It was an incredible moment.
---
DIAMOND IN THE ROUGH
A diamond in the rough is a natural stone whose value is only seen by a trained eye. It requires the imagination, ingenuity, and refined skills of an expert diamond cutter to bring the ordinary stone into its full luster.
MOARK Kiwanis was given a "diamond in the rough" when Beatrice Johnson bequeathed 160 acres of undeveloped land to be used as a nature camp for underprivileged children. We have the opportunity to turn this pristine property into a dazzling gem that will impact children for many generations . I want to be a part of the development of this gem of a property which will help kids unplug, unwind, and learn lessons from nature that nothing with a battery or cord can provide. You can have a part in making this gem sparkle and impact children by your support and assistance with Beatrice Johnson Kiwanis Youth Kamp.
---
Kids need Kiwanis and KIDS NEED NATURE
In nature, nothing is perfect and everything is perfect. Trees can be contorted, bent in weird ways, and they're still beautiful. –Alice Walker
In life we are so very often faced with self-doubt and rejection. The world can be cruel and unforgiving. We may hope that childhood is safe, secure, and nurturing but youth, unfortunately, are not often protected from the challenges and risks of humanity. In fact, they are all the more vulnerable as they lack the perspective and coping skills to manage many of life's storms.
Kamp Kiwanis is a dose of what can help youth get away from some of all that glitters and shines and beeps and take a look at what is both fragile and strong….broken but whole….vulnerable and exposed but strong and resilient.
Helping kids to look up, look out, and look beyond is something that can be achieved in this special place. Helping kids listen to hearts and not to technology is a challenge and Kamp Kiwanis can get us a bit closer.
You can connect to our future by helping a kid disconnect a bit to what is unhealthy today. Speak with us soon about creative ways to use this gift and resource to help our youth know just how special, valuable, and beautiful they are!
---
A young child's connection with Nature can be as simple as sitting under a big old tree, listening to the chirp of crickets or gathering up acorns in a baseball cap. Spending time in nature has many positive benefits. Learning to listen to sounds around us in the open spaces. Children who have opportunities made for them to play and learn in nature are more likely to:
Handle challenges and problems capably
Act responsibly toward Earth and to each other
Be more physically active and less likely to be obese
Have a greater appreciation of the arts, music and good literature
Choose science for a career
Become an environmentally aware adult
If I had a wishing well, I would bless each child with a sense or Wonder. Inviting them to ask
HOW? And WHY? And even WHY NOT?
Beatrice Johnson Kiwanis Youth Kamp offers some of these magical attributes we can pour into all children. The children and youth from your town and from the world.
Remember Kids Need Kiwanis!
---
[Editor's note. Submissions are not limited to Kamp Kiwanis. Other MO-ARK Subjects are welcome. But Kamp Kiwanis did make the first submission.]