Education Day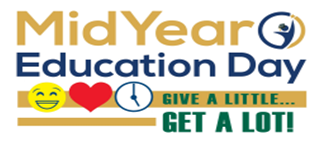 2022 Mid-Year Education Days
Mid-Year Education Days are coming soon to a regional event near you! Gather your Kiwanis Club pals and join us for a day of dynamic presentations and idea sharing to support your club's growth and leadership goals!! Don't need ideas for your awesome club? Please come and share your club's secret sauce with everyone else! We are committed to providing quality educational opportunities at each of the following four regional one-day events:
February 19, 2022, in Springdale, Arkansas – First United Methodist Church, Family Life Center, 206 W. Johnson Avenue, Springdale, AR 72764
February 26, 2022, in Malvern, Arkansas – Arkansas State University Three Rivers, One College Circle, Malvern, AR 72104, Keith Great Room (A300)
March 5, 2022, in Kansas City, Missouri, North Cross United Methodist Church, 1321 NE Vivion Road, Kansas City, Mo 64118
March 12, 2022, in St. Louis, Missouri – Logan University, 1851 Schoettler Rd, St. Louis, MO 63017
The events will run from 9:00 am to 3:00 pm, with registration starting at 8:00 am. The morning will feature three workshop presentations:
Diversity, Equity & Inclusion
Revitalizing Your Club with Club Coaches
Club Meetings that Attract, Inspire & Retain Members
During lunch, you will enjoy a keynote speaker who is a regional expert on children's issues. After lunch, there will be engaging Roundtable discussions, where you can rotate between 20-minute smaller group discussions, as you choose. Regional committees will provide more details on speakers and roundtable topics as we are closer to date of the event. Cost for each one-day event, including lunch, is $35.00/person. If you choose to attend more than one event, the cost is $20 for one-time registration fee and $15 per event for lunch. When you click the button to register below, you can select the venue/date that works best for you. Please register as soon as you can. Our registration deadline will be 3 business days before the date of the event you are attending.
Register here: http://events.r20.constantcontact.com/register/event?llr=ye4mbwlab&oeidk=a07eiz582i5a6b72dda&condition=SO_OVERRIDE
---
For more information contact:
Katie Rennard, Convention Chair
mobile: 479-427-1384
[email protected]